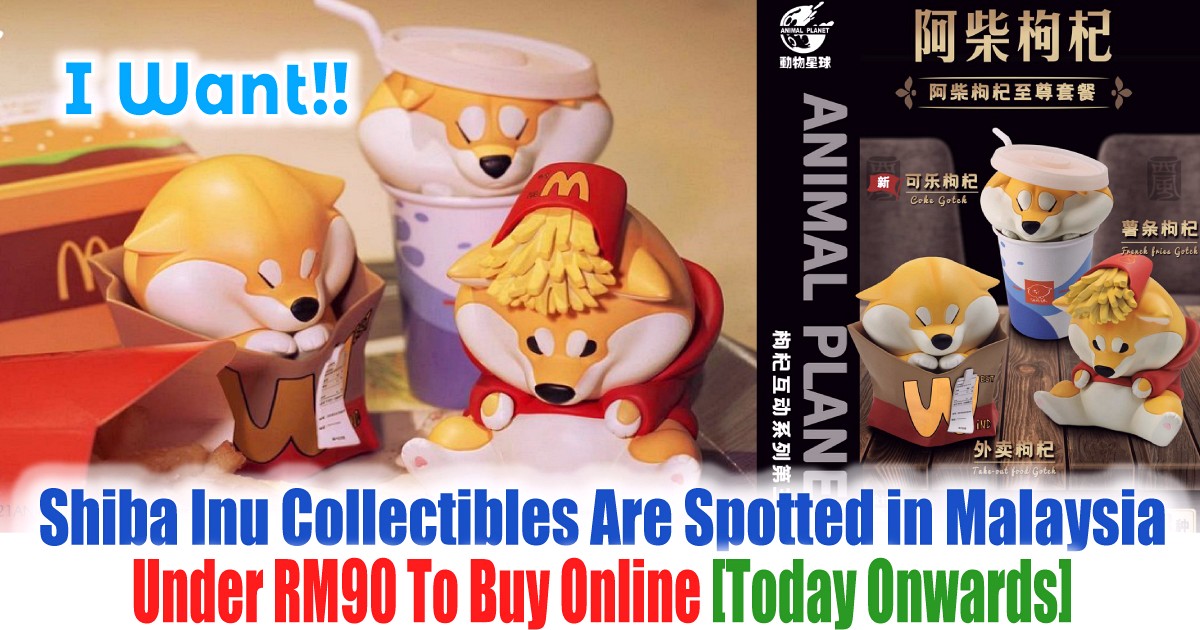 Collectors of collectable toys may have seen the viral "McDonald's" toys with the little Shiba Inu circulating on social media.
Hello, foodies! We came upon something extremely cute. It's a collection of Animal Planet Shiba Inu collectables dressed up as McDonald's.  These little Shiba Inus are full of fluff, and the good news is that they're finally available in Malaysia!
Do you have a soft spot for Shiba Inus?
Do you enjoy eating fast food?
Do you enjoy collecting toy figurines as well?
If you're a Shiba Inu lover, hurry and get these collectables before they're gone forever!
The Shiba Inu is with no doubt one of the prettiest dogs on the planet. We've never considered how adorable they'd be if they were turned into figurines. These Animal Planet Shiba Inu fast food collectables are a dream come true! Especially to dog parents who own a Shiba Inu.
The three designs are as follows:
Shiba Inu with French Fries:
The Shiba Inu with French Fries is a furious Shiba Inu with a box of fries on its head, dressed in a red hoodie.
---
Shiba Inu in a beverage cup:
The Shiba Inu in a beverage cup is a chubby cheek Shiba Inu about to burst from a fast-food drinking cup.
---
Shiba Inu in a takeout bag:
The Shiba Inu in a takeout bag is a Shiba Inu which comes in a takeaway paper bag with a receipt.
---
Here's How to Purchase these Cute Shiba Inu "McDonald's" Fast Food Toys in Malaysia:
These adorable toys can be purchased for RMB69 (RM45.00++) each on taobao.com (Pay RMB69 for the deposit, once production done, pay the remaining RMB69)
Customers in Singapore may pre-order the figurines for RM118 at www.primocollectibles.com
or You' can direct purchase with All Blue Toys, a toy shop in Thailand, is taking pre-orders for Shiba Inu fast food toy figures.
There are three different styles to choose from, each costing 700 baht (RM93.00++).
Pre-orders will be accepted until June 24.
Here's the original post:
The Shiba Inu illustrator Xi Feng collaborated with the toy company Animal Planet to create this hysterically charming toy series.
Each of the three toys in the collection shows a chubby and depressed Shiba Inu in an odd position with fast food items. Although the red "packaging" and logo resemble the well-known fast-food business, it is unrelated to this toy, as seen by the inverted "m" logo.
Animal Planet Shiba Inu Fast Food Collectibles Have Been Found in Malaysia.
*Disclaimer: This isn't a McDonald's toy nor a collab with the fast-food chain.