Sometimes, when it's sounds too good too be true then … it's too good to be true. But this time, it is a different case, cause this Starbucks deal is seriously REAL!!
Serious one! You can get your FREE Starbucks drink but with a condition that you need to buy 1 drink first la … In short, it's buy 1 free 1 la …
It's happening in conjunction with the Starbucks Reserve Sunway Pyramid Anniversary! For this Anniversary, you can enjoy Buy ONE Free ONE on any handcrafted beverages at Starbucks Reserve Sunway Pyramid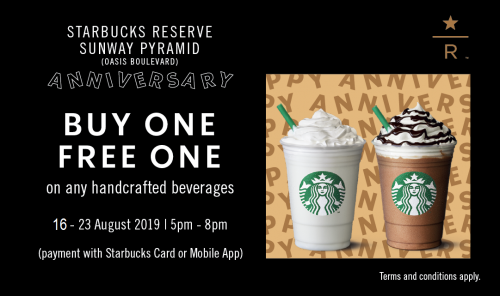 If you're nearby then you need to come over and buy your friend a drink! No better time to buy your friend a drink then now .. hahaha … Sounded cheap skate but who doesn't like a deal.
All you need to do is just purchase any handcrafted beverage with Starbucks Card or Mobile App and the next handcrafted beverage is on Starbucks.
But take note that there is a time limit for this deal where the promotion Period happens from16 Aug 2019 – 23 Aug 2019 (5pm – 8pm)
Of course there are some terms and conditions for this deal. Good deal sure have terms & condition one la
Valid only at Starbucks Reserve Sunway Pyramid (Oasis Boulevard)
Payment must be made with Starbucks Card or Mobile App
Complimentary beverage must be of equal or lesser value than the purchased beverage
Not applicable for Reserve and Nitro beverages
Any add-ons will be charged accordingly
Not valid with other discounts or promotions
So make sure you come over with your friend for this deal! For sure, we are not cheapskate but we are smart spender only …. Also, make sure you share this with your friends also. Don't be so selfish la