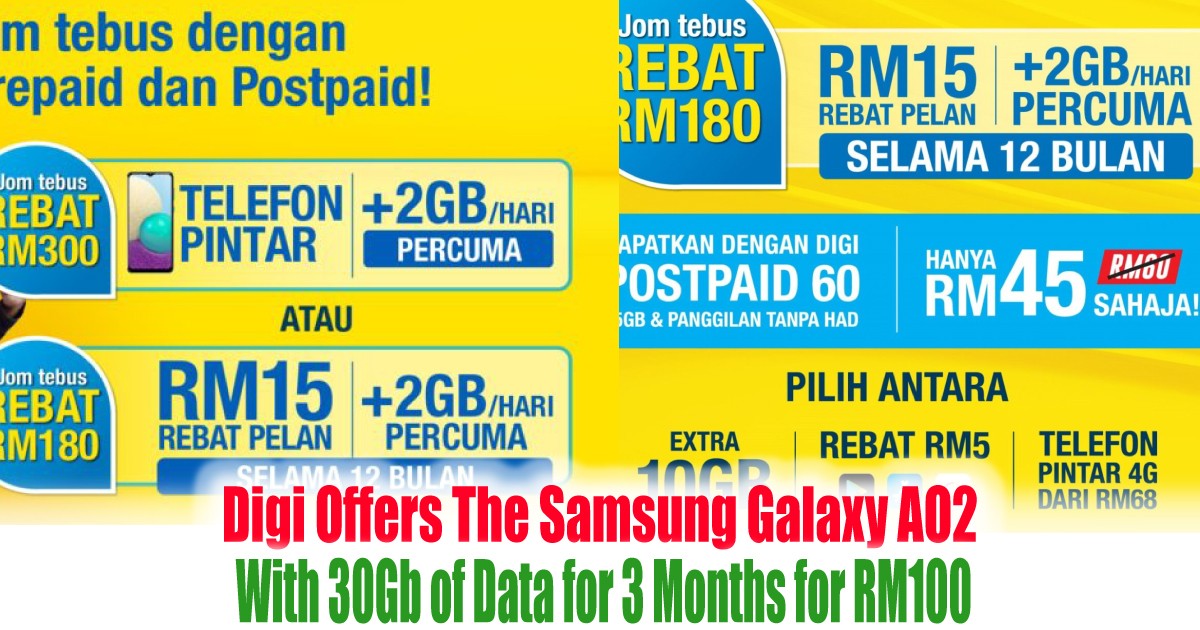 Digi Offers The Samsung Galaxy AO2 With 30Gb of Data for 3 Months for RM100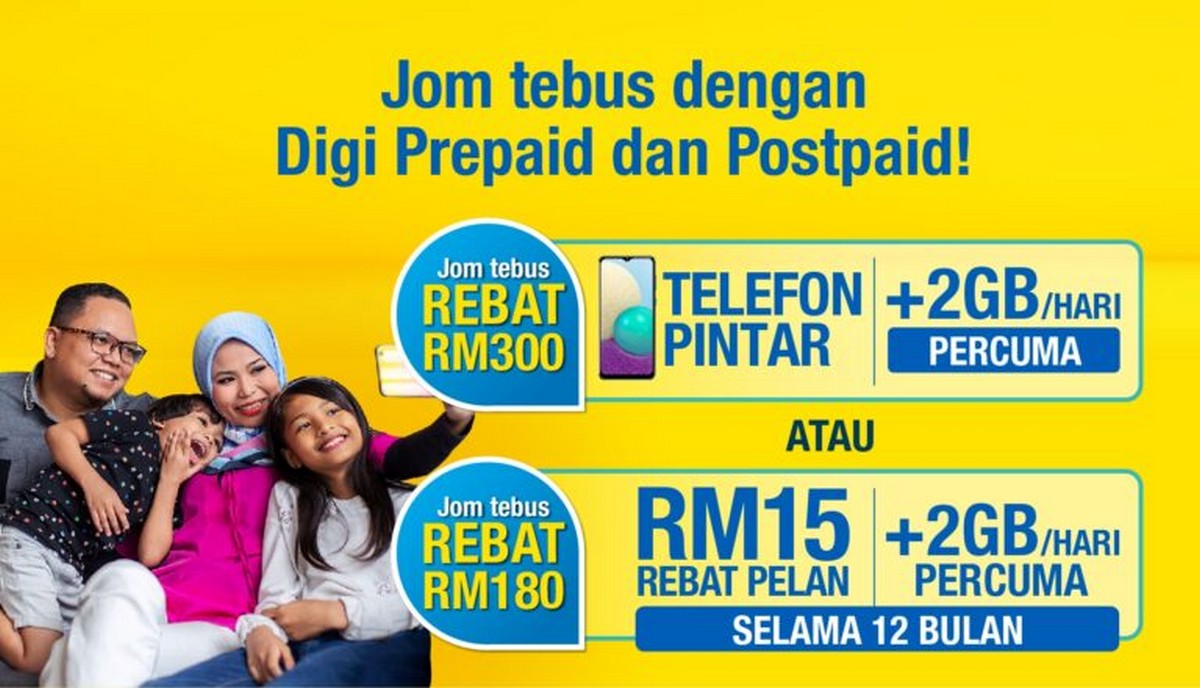 source digi
Digi is also offering the latest Jaringan Prihatin package where you can redeem the Jaringan Prihatin subsidy if you're an eligible Bantuan Prihatin Rakyat (BPR) recipient. You can get RM180 worth of telco credit for either postpaid or prepaid or get a brand new phone or tablet at Rm300 off.
On Digi Prepaid, you can redeem RM15 of credit for 12 months. In addition, Digi is also throwing in 2GB of data per day which you'll have to redeem from the MyDigi app and it's valid for 1 hour. With the subsidy, you can also get 15GB of data from RM15, 30GB of data with unlimited calls for RM20, or 40GB of data with unlimited calls for RM30. According to Digi, the RM180 subsidy (RM15 x 12 months) can be utilized on any prepaid plan that costs RM30 and above.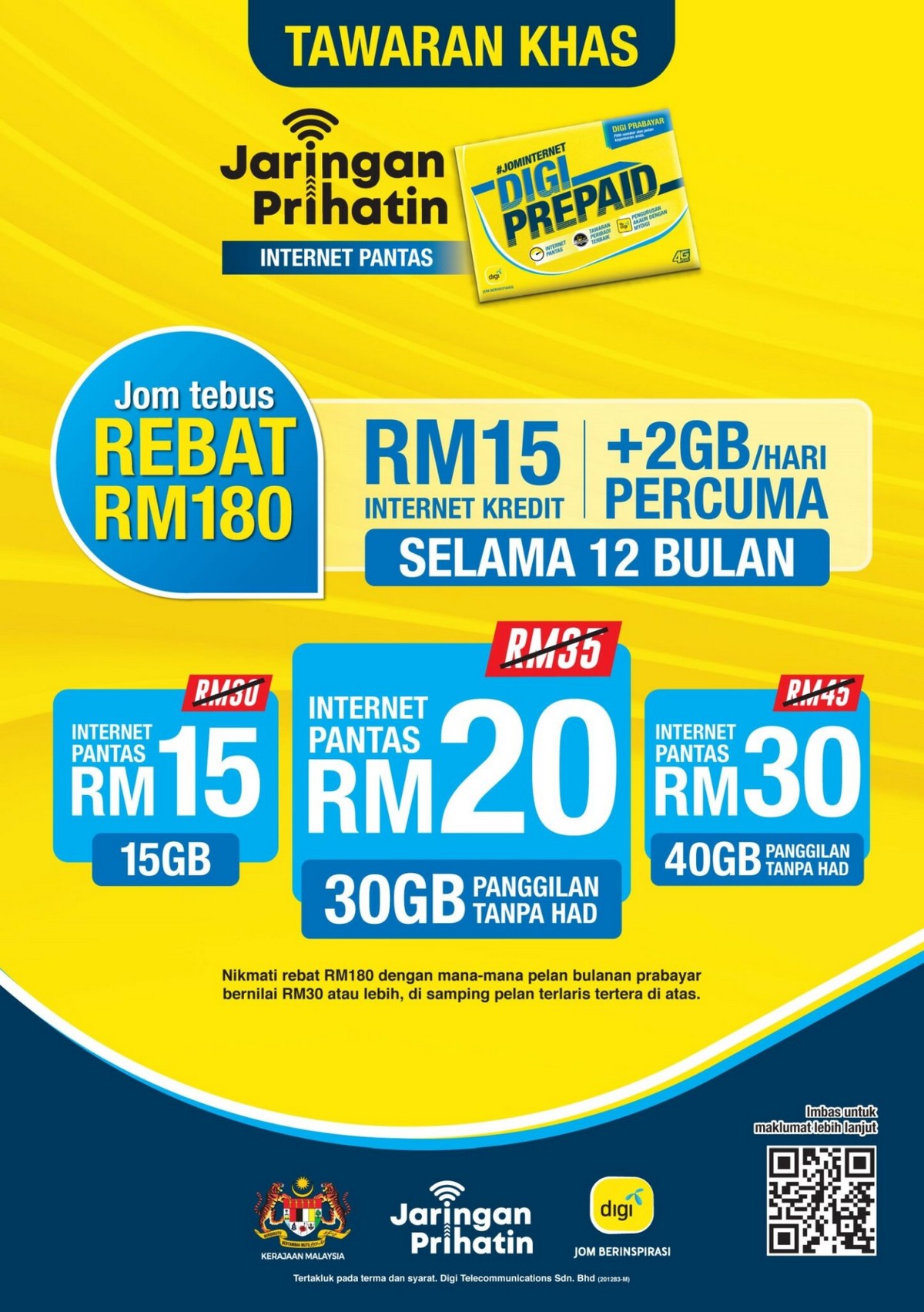 source digi
If you need a new phone, there is a Digi Prihatin 35 Prepaid Bundle which lets you grab a free Samsung Galaxy A02 along with 30GB of data for 3 months plus 2GB daily data (valid for 1 hour) for RM100. This package will utilize the RM300 subsidy and it is only applicable for individuals or households with children aged below 18 years old.
While for those who are wanted to sign up for Digi's postpaid plan then you can get Digi Postpaid 60 with 25GB data and unlimited calls for RM45/month. Other than this, you can either choose additional 10GB of data or a monthly RM5 rebate from the app purchase. Digi also lets you redeem 2GB of free data daily that is valid for 1 hour.
If you are an eligible BPR recipient with children below 18 years old, you can also enjoy the RM300 device subsidy with Digi's postpaid plan. For RM40 per month on the Prihatin 40 Postpaid Bundle, you can get 10GB of data with unlimited calls along with a free Samsung Galaxy A02 and you can pick up Samsung the Samsung Galaxy Tab A8.0 for RM199 or the Oppo A15s for RM195.
Take note that all devices offered on the Digi Postpaid Prihatin 40 bundle are tied with a 12-month contract. During sign-up, you'll need to pay an advance payment of RM100 which will be rebated back to your monthly bill across 10 months. Under the postpaid bundle, you can also redeem the free 2GB daily data that's valid for 1 hour.
For more info, visit Digi's Jaringan Prihatin programme page.