This is specially dedicated to the burger and cheese fans out there. This is a must try burger combo! Here is the Burger Bakar Abang Burn.
Now you can enjoy a special melted cheese put on top of your burger bakar!! 
?
?
?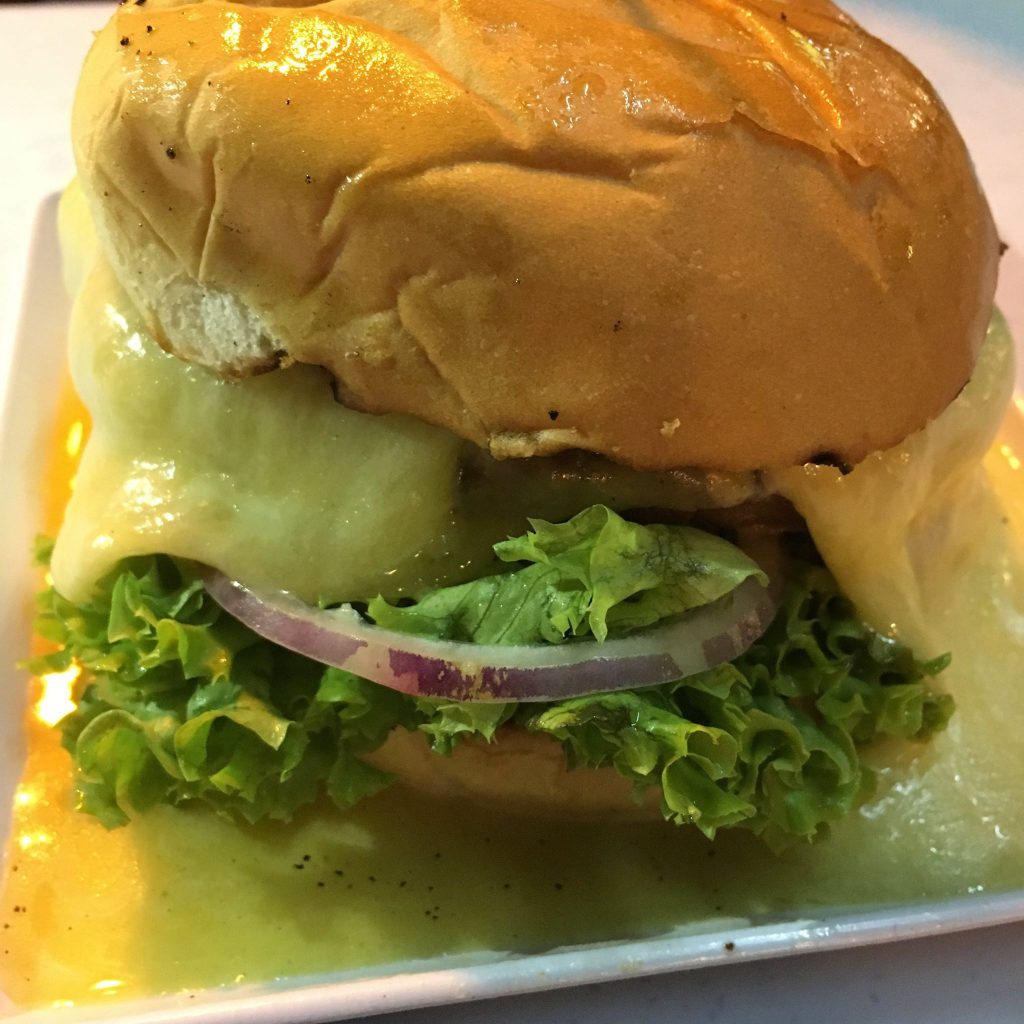 We present to you Burger Bakar Abang Burn
The cheese that Burger Bakar Abang Burn used for this special Cheese Bakar is Raclatte Cheese and it's an imported cheese. It's also known as 'wheel of gooey, melty cheese'. 
?. This special cheese serving is only available in the Ampang Branch
Aside from Raclaette Cheese, they are also offering Melted Mozzarella Cheese 
?, Cheese Banjir Cheddar 
? dan Cheese Nachos 
? and it's at a very reasonable price as well! You will need to really tarik the cheese before you eat it. These menu is available in all outlets.
There pricing are affordable and the pricing lists is as below
Burger Bakar Original Daging / Ayam – RM7.9
Burger Cheese Raclatte / Cheese Bakar – RM15 (Cawangan Ampang sahaja)
Cheese Lebur Mozarella + RM3 (biasa), atau + RM6 (tenggelam)
Cheese Banjir Cheddar + RM3
Add-on:-
Semua topping (beef strip, turkey slice, supremo & cheese) – RM5
Even better news, if you're a student, Abang burn is giving you FREE Cheese.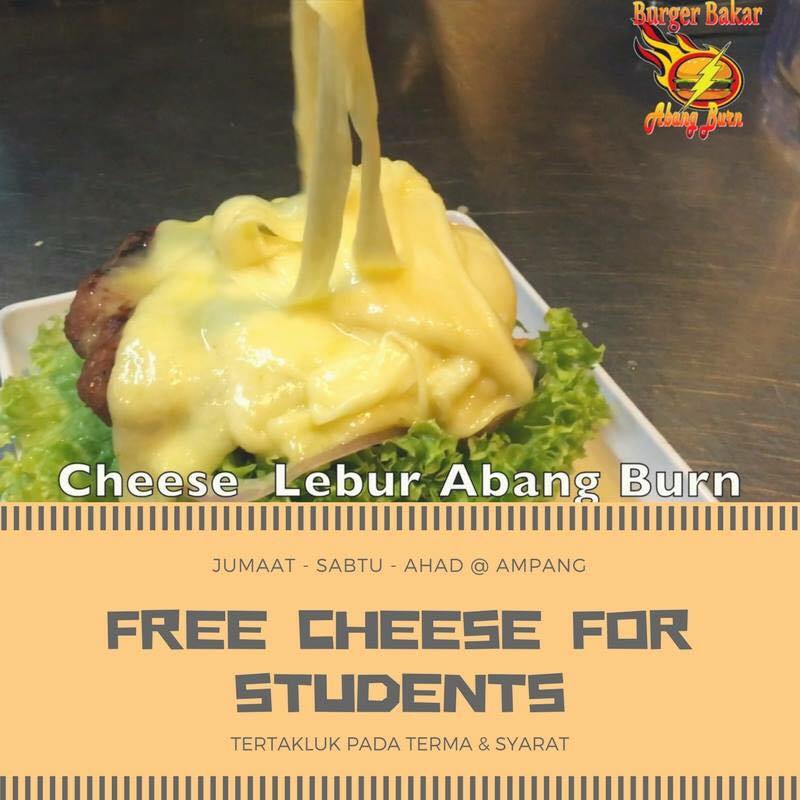 Make sure you come over to try this out. Their outlet details is as below:
Burger Bakar Abang Burn @ Jajahan Ampang
Dagang Avenue Food Court,
Jln Dagang B/3A,Tmn Dagang,68000 Ampang
Operating Hours : Setiap Hari (6pm – 1200am)
Burger Bakar Abang Burn @ Jajahan Selayang
Seri Selera MPS, Selayang,
Jalan Bidara 2/5, Taman Bidara
68100 Batu Caves, Selangor
Operating Hours: Setiap Hari (6.00pm-12:00am)
Burger Bakar Abang Burn @ Jajahan Kajang-Bangi
Ramal Junction Food Court, (2km dari Pusat Bandar Baru Bangi)
Jln Ramal 1,Tmn Ramal Indah,43000 Kajang
Operating Hours : Setiap Hari (6pm – 1200am)
Burger Bakar Abang Burn @ Jajahan Nilai 
MMA Santai Corner (Macam Macam Ada Santai Corner)
Putra Point Fasa 2B,Putra Nilai,71800 Nilai,Negeri Sembilan
Operating Hours: Setiap Hari (6pm – 1200am)
Burger Bakar Abang Burn @ Jajahan Johor Bahru Stulang 
B. Point Station (Stesen Shell selepas CIQ),
Lot 25231-A,Jln Yahya Al-Datar,80000 Johor Bahru.
Operating Hours: Setiap Hari (6pm – 1200am)
Burger Bakar Abang Burn @ Jajahan Melaka
Medan Selera Sungai Melaka,
No.1 Gerai Dewan Hang Tuah,75300, Jln Hang Tuah Melaka.
Operating Hours: Setiap Hari (6.00pm-12:00am)
Burger Bakar Abang Burn @ Jajahan Taman Melati 
Restoran Maamus Garden
Jalan Taman Melati, Gombak Setia, 53100 Kuala Lumpur
Operating Hours: Setiap Hari (6.00pm-12:00am)
Restoran Burger Bakar Abang Burn @ Jajahan Klang
23, Jalan Remia 4/KS6 Bandar Botanic,
41200 Klang,
Selangor Darul Ehsan
Operating Hours: Setiap Hari (6.00pm-12.00am)
You can check out their Burger Bakar Abang Burn Facebook as well