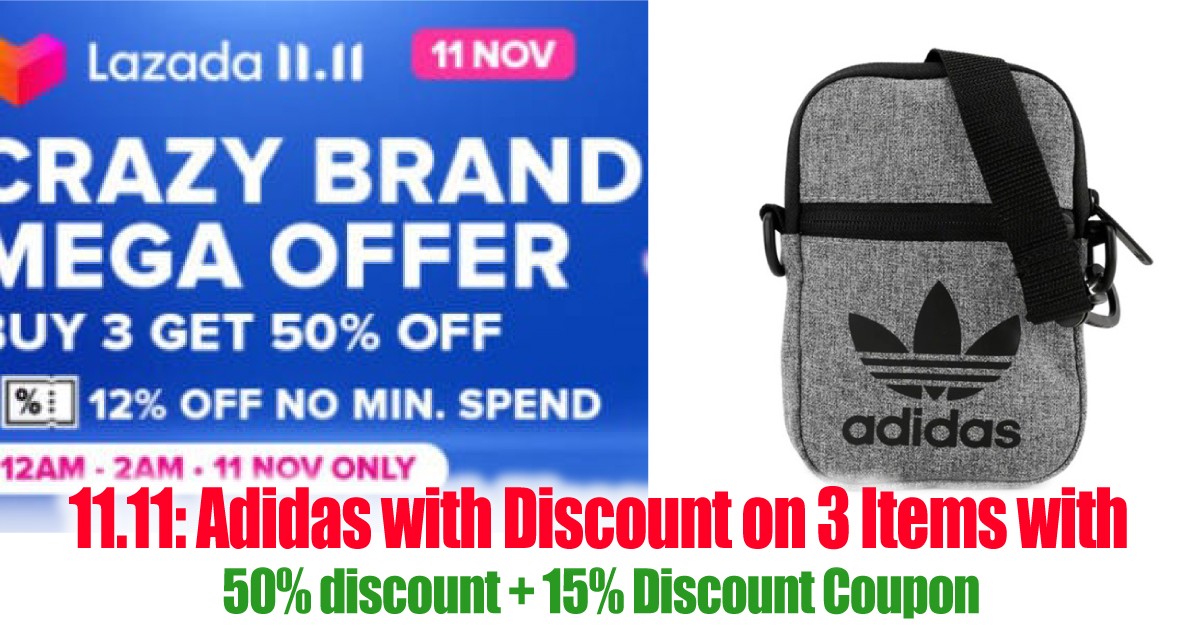 11.11: Adidas with Discount on 3 Items with 50% discount + 15% Discount Coupon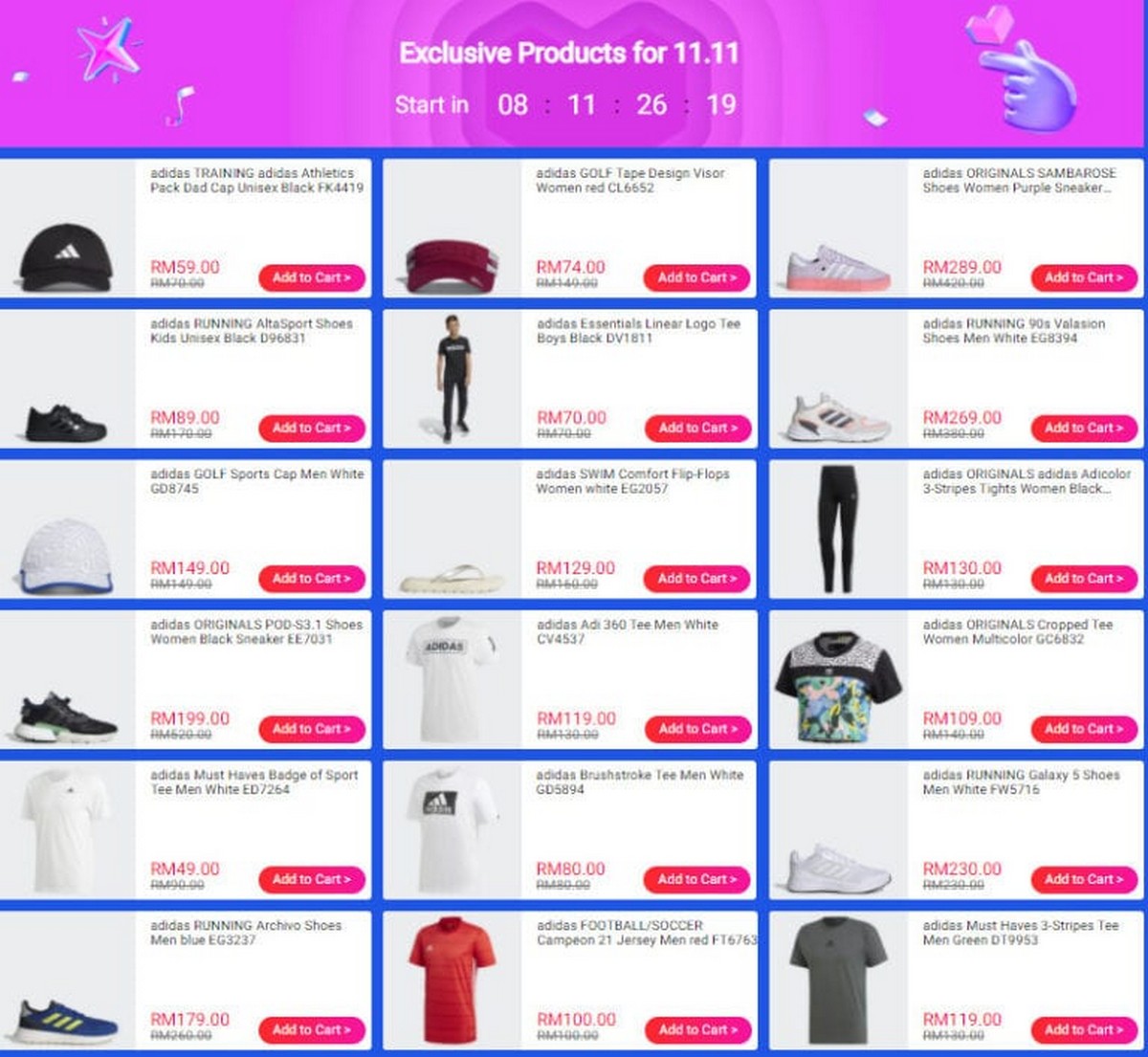 Adidas's wildest promotion ever! adidas has a big sale on November 11! Buy three products with a direct discount of 50%+12%! So many choices! There are discounts on clothes, bags, or shoes! Only place orders from 12 am-2 am in the morning!
Adidas Promotion
In fact, a single item has a lot of discount at 11.11! These preferential prices are only available for orders placed on November 11! Don't miss it! Next, let the editor help you take stock of 10 Adidas items worth starting!
Adidas SAMBAROSE
Promotion price RM289 ( original price RM420 )
This Adidas Sambarose can be said to be a classic in the Adidas series! In addition to the three-line design of the logo, there is also a small heart next to it, plus a thick sole! This design has captured the hearts of many girls! This shoe must be in!
Adidas baseball cap
Promotion price RM59 ( original price RM70)
The T-Shirt jeans and this Adidas baseball cap are not only fashionable and beautiful! It's perfect! This kind of outfit is not only lively and cute, but this Adidas baseball cap is a universal item. Whether it is matched with pants or skirts, it can create a different feeling!
Adidas Sneaker Black Women
Promotion price RM199 ( original price RM520 )
Adidas Sneaker's jogging shoes are made of breathable mesh material, which makes you super comfortable and not stuffy whether you are running or shopping! If you like 100 points of comfort, you must choose this one!
Adidas Melange Festival Bag Unisex Black
Promotion price RM59 ( original price RM80 )
A small shoulder bag is not only fashionable but also versatile! I don't want to bring so many things when I go out. You can put your mobile phone, wallet and motor key in it!
Adidas Classic Badge of Sport Backpack Unisex Black
Promotion price RM79 ( original price RM100 )
Super classic and stylish design, no matter you take it to school, work or shopping! Moreover, the black fabric is also very stain resistant!
Adidas RUNNING Run It Tee Women Pink
Promotion price RM79 ( original price RM100 )
Running in such a hot weather in Malaysia, of course, you need a super-breathable material! This Adidas sportswear is super supple, and it dries quickly without making you feel sticky!
Adidas Falcon Shoes
Promotion price RM339 ( original price RM480 )
The first time I saw it, I thought how these shoes could be so tender! With pink leather surface and white sole, it looks comfortable and sweet. This color scheme shows the soft and sweet atmosphere of nude pink, and adds a lot of liveliness and cuteness when running.
Adidas BASKETBALL OwnTheGame Shoes Men Grey
Promotion price RM279 ( original price RM350 )
This Adidas basketball shoe is not only retro and stylish! Wear it out, you are the most beautiful boy in the audience! With the gray shoe body, three silver lines are used to highlight the overall design! This pair is really cool!
Adidas RUNNING 90s Valasion Shoes Men White
Promotion price RM269 ( original price RM380 )
If you run regularly, I suggest that you must start this one! This running shoe has super soft Cushion, which makes you comfortable every step of the way!
Adidas Must-Haves 3-Stripes Tee Men Green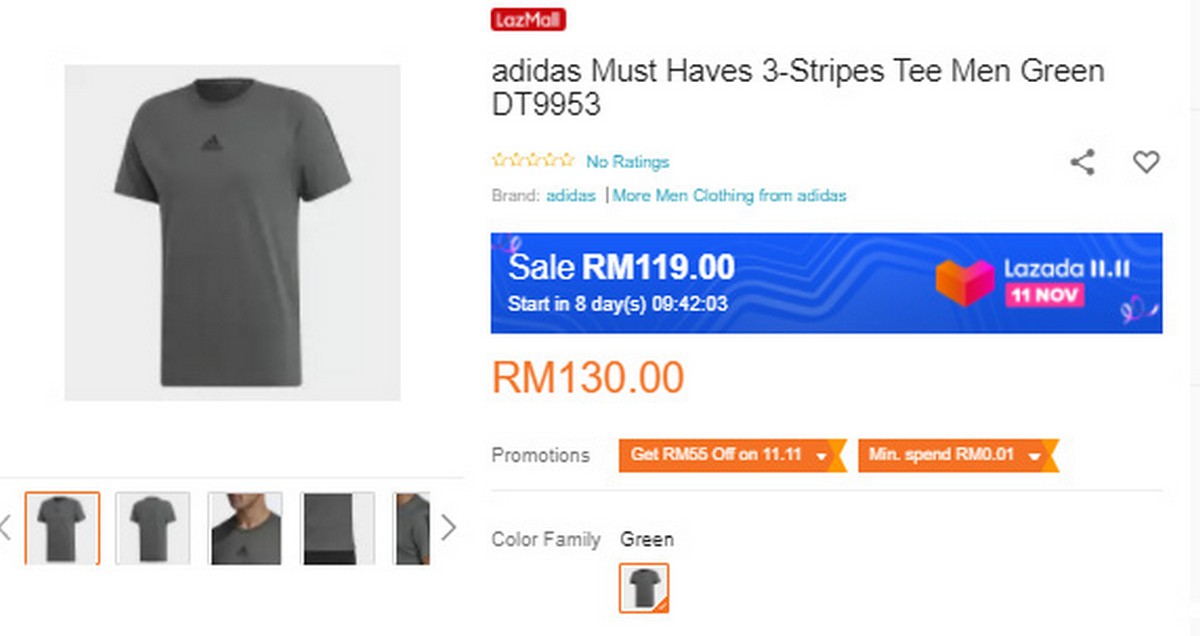 Promotional price RM119 ( original price RM130 )
A must-have shirt for Adidas fans! The classic three-line design and the dark cyan shirt are super nice!
Adidas 50% discount
On November 11th, 12am-2am in the morning, you can directly deduct 50% if you place an order of 3 Adidas products ! No need to claim any coupons! Don't miss it! Go to the Adidas online store to buy now, then add it to the shopping cart, and wait until November 11 to pay!
[Receive up to 15% discount coupon]

15% discount coupon rules:
15% discount, need to spend RM300
---
12% discount rules:
12% discount, no minimum consumption!
---
Click to receive Adidas discount coupon
Delivery fee
Adidas' official flagship store at Lazada has a shipping fee of RM3.5 to RM9.50! But if you spend RM150 or more, you can get free shipping!
The promotion at the Adidas flagship store is really worth seeing! Buying on the official website is not only cheaper but also guaranteed to be authentic! If you are not satisfied with the product, you can return it within 15 days!
---
Finally, the editor gives another good news! Pay using Lazada Wallet, and then get the following coupon, you can get an additional discount of 11%. Need to spend RM499 or above!