Some Netizen Have Received AstraZeneca 2 Round Appointments on MySejahtera Despite Of Failed Booking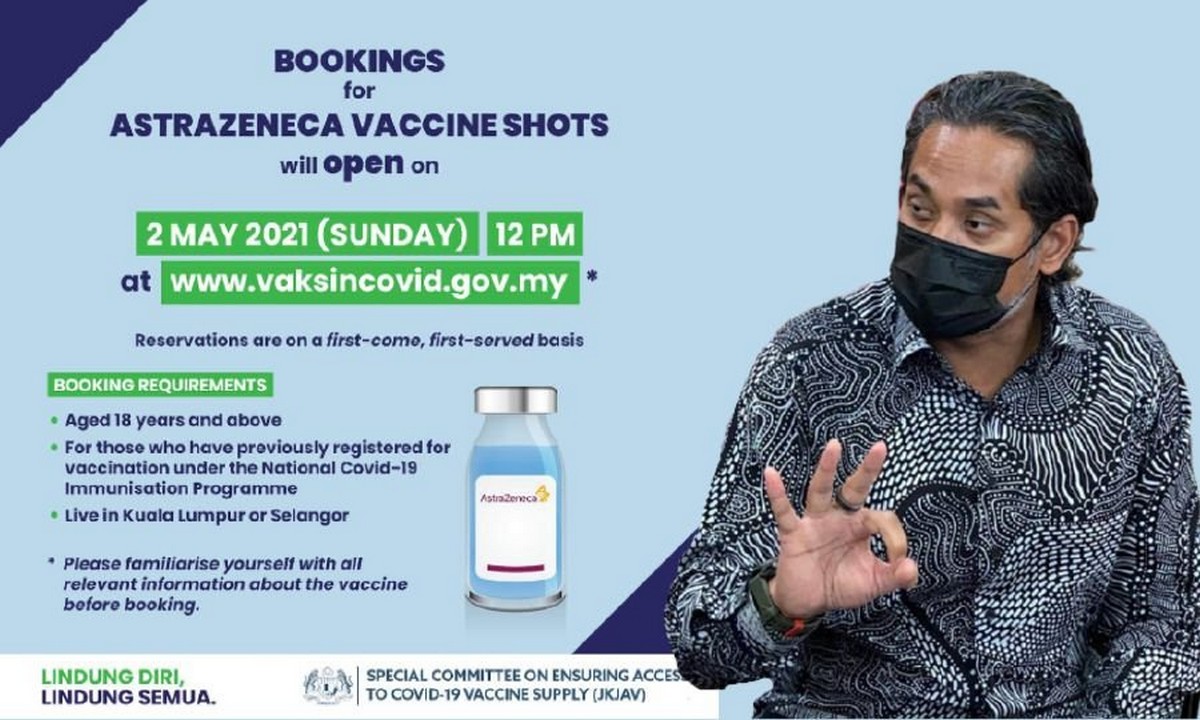 source nst
A lot of Malaysia was left frustrated after the earlier round of yesterday on the AstraZeneca Round 2 booking on vaksincovid.gov.my. Despite the website which keeps failing, a total number of  956,609 doses have been booked within an hour out of the total 1,261,000 doses allocated under Round 2. Interestingly, some individuals somehow received a surprise this morning when they received their AstraZeneca appointment details on their MySejahtera app.
Yesterday, I didn't managed to book a slot for #CucukMYAZ after trying 163738 times, but then this morning when I woke up, I got the notification from MySejahtera to confirm my appointment 🤨 Maybe those who didn't managed to book a slot yesterday can check your MySejahtera app pic.twitter.com/e5El8CdAhg

— アリッサ (@caryophyllac) May 26, 2021
It is known that some individuals who have gotten their appointments this morning didn't get to choose their date they wanted when they saw the slots which were all fully booked error message. Where some others said that they claimed to receive her appointment despite not being able to see the slot at all. Where she was given an appointment at WTC which isn't a preferred choice but still within the Klang Valley area.
Same. Smlm nk submit apa pon tk boleh but td tergerak hati nk cek my sejahtera and Alhamdulillah dapat pic.twitter.com/TFyFKCN5oE

— Si manis ☺️ (@kyrvRv) May 27, 2021
If you've tried to book the AstraZeneca vaccine but didn't manage to complete the process, do check your MySejahtera app under the vaccination page. The appointments for Round 2 are being sent out today, so do keep an eye out. If you have a successful appointment, you must confirm it within 48 hours in the MySejahtera app and you will then be reminded about it via SMS a day before the scheduled date. And you are advised to reach the venue not more than 30 minutes ahead of the scheduled time.
Check your MySejahtera everyone! Maybe you got an appointment too! 🤩
Kawan balik lah dengan @JKJAVMY 🥰

From this. To this. pic.twitter.com/Kh8YoelZCV

— NN #FreePalestine 🇵🇸 (@NadirahOthman) May 27, 2021
The AstraZeneca Round 2 was initially offered only to senior citizens aged 60 years old and above starting from 23rd May. On Sunday, it was open to all adults aged 18 years old and above. Round 2 vaccinations will be conducted at 8 vaccination centers in Kuala Lumpur, Selangor, Penang, Johor, and Sarawak between 7th June until 27th July 2021.