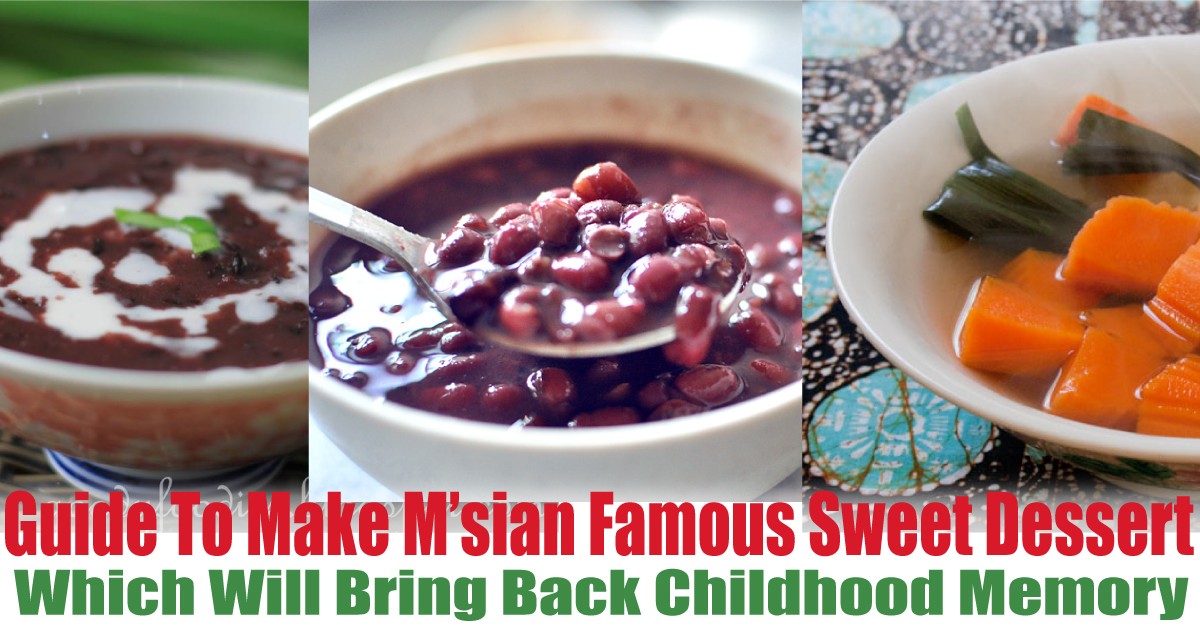 Guide To Make Some Malaysian Famous Sweet Desserts Which Will Bring Back Childhood Memory
Ever wonder on how to have the skills to make yourself at home on your favourite childhood desserts when it comes to time, especially you just couldn't find this dessert you are craving out of a sudden. Because we know sometimes these dessert stall will just run out so fast and it basically went empty by the time we reach these stall. So why not try to make it yourself. Here is some guide to make your own famous sweet desserts.
1. Black Glutinous Rice Sweet Porridge (Bubur Pulut Hitam)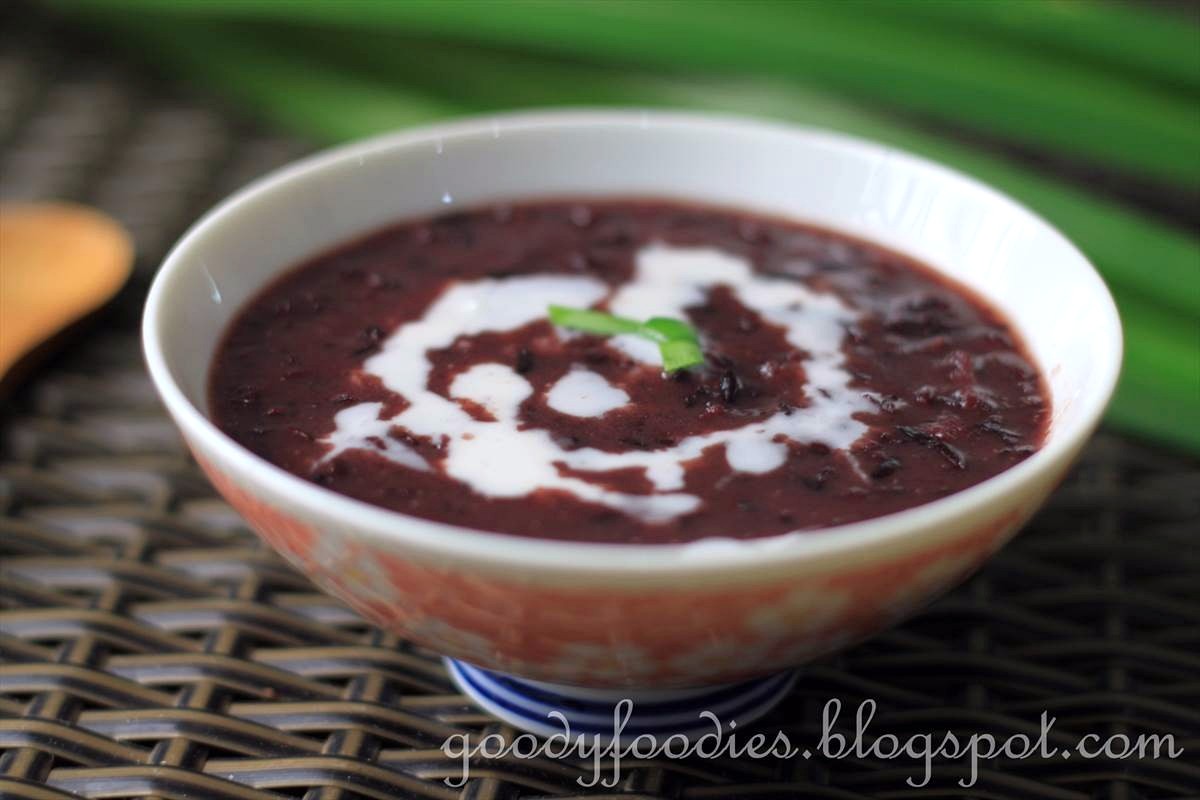 INGREDIENTS:
250g black glutinous rice (pulut hitam), washed and drained
1.5 litres water
3 pandan leaves, knotted
100g gula melaka
30g caster sugar
250ml thin coconut milk
150ml thick coconut milk
1/2 tsp salt
INSTRUCTIONS:
Place rice in inside pot with water and pandan leaves to boil it.
Once the water start to boil, reduce the get and remove the pandan leaves.
Let the water continue to boil for 45 min until the liquid is thick and creamy.
Add gula melaka or caster sugar and stir until dissolved. then add thin coconut milk and let it simmer for another 10-15 min.
add salt to taste
Recipe adapted from GoodyFoodies.
2. Bubur Cha Cha
INGREDIENTS:
80g orange sweet potato
80g yellow sweet potato
80g purple sweet potato
150g yam (taro)
10g sago (tapioca pearls)
50g black-eyed beans, soaked for 1 hour
3 bananas, peeled and cut half inches thick

Tapioca flour jelly:
100g tapioca Flour
1/2 cup boiling water
Red colouring

Coconut milk base:
3 litres water
1 cup thick coconut milk
120g sugar
2 pandan leaves, knotted
Salt to taste
DIRECTIONS:
Boil water with the black eye peas until soft, and boil the sago separately on another pot until translucent and cooked.
Cut all sweet potatoes and yam into cube shape and steam them separately until tender.
To make tapioca flour jelly, place tapioca flour in mixing bowl and pour in hot water, then mix well until a dough is form and let it cool, and roll it to becomes tapioca ball or cube.
Add in 1 tbsp sugar on a hot pot of water, and let the banana soak in for 5 min and let it drain.
Bring 3 liters water to boil, add in thick coconut oil, milk, sugar, salt and pandan leave and let it cook for low heat for 10-20 min.
Add in the rest of the ingredients and mix well. Simmer and let boil before removing from heat.
Serve warm or chilled.
Recipe adapted from Rasa Malaysia.
3. Wheat Sweet Porridge (bubur gandum)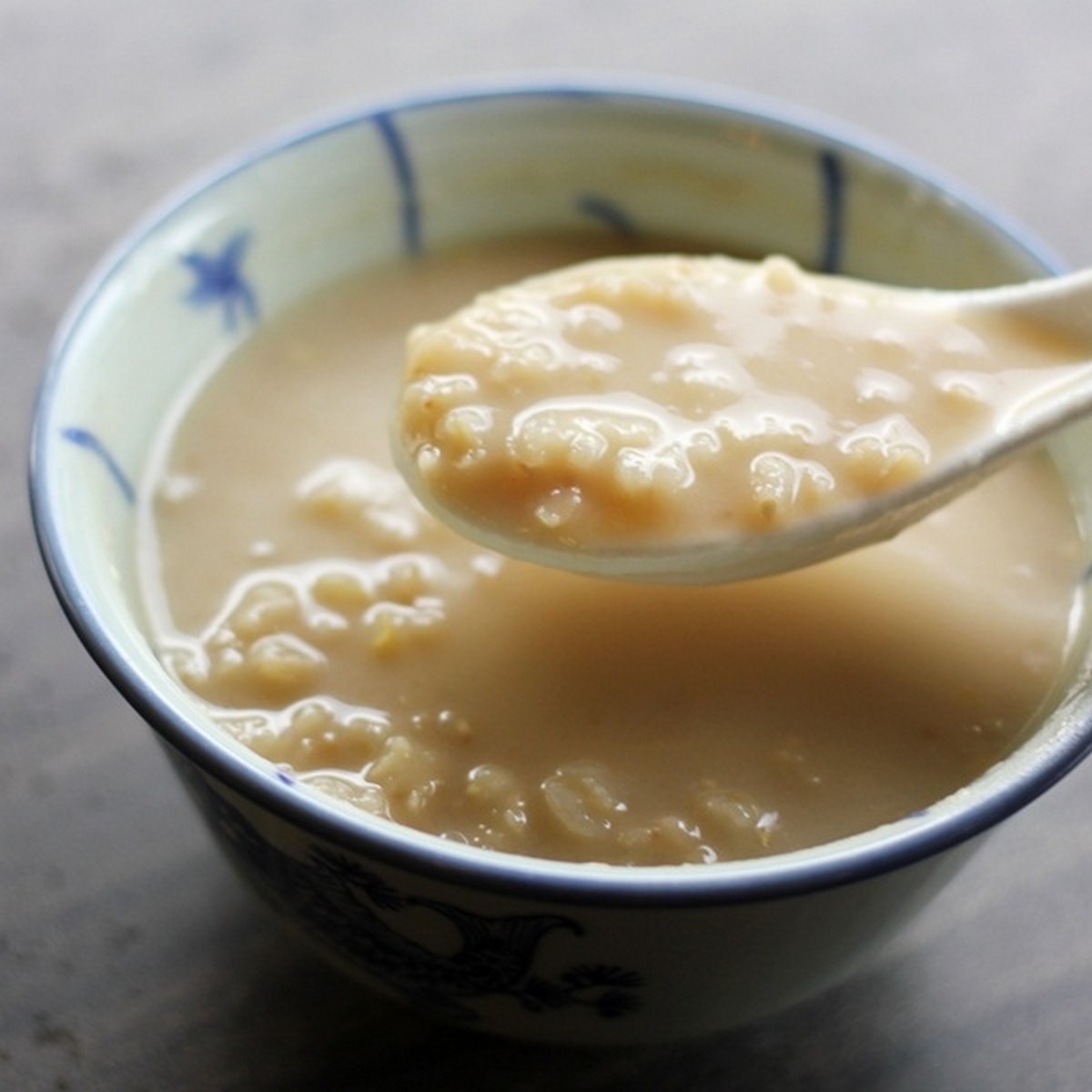 INGREDIENTS:
300g whole wheat (biji gandum), soaked overnight
1.5 litres water
6 screwpine leaves (pandan), knotted
100g palm sugar (gula Melaka)
150g granulated sugar
150ml water
220ml thin coconut milk
2 tbsp plain flour, mixed with a little water into a paste
100ml thick coconut milk
½ tsp salt
INSTRUCTIONS:
1. Drain the wheat and combine with water and 4 pandan leaves in a deep saucepot. Bring to a boil and cook until wheat grains turn soft and expanded.
2. Place palm sugar, granulated sugar, the remaining 2 screwpine leaves and thin coconut milk in a saucepan, then bring to a boil to dissolve the sugars.
3. Strain the syrup and discard the screwpine leaves and pour syrup into the wheat porridge pot. Bring to a simmering boil for a while. Thicken with flour paste, stirring continuously until thick.
4. Combine thick coconut milk with salt and leave aside. Scoop wheat porridge into serving bowls and add a little thick coconut milk for added taste.
Recipe by Amy Beh via Kuali.
4. Sweet Mung Bean Stew (Bubur Kacang Hijau)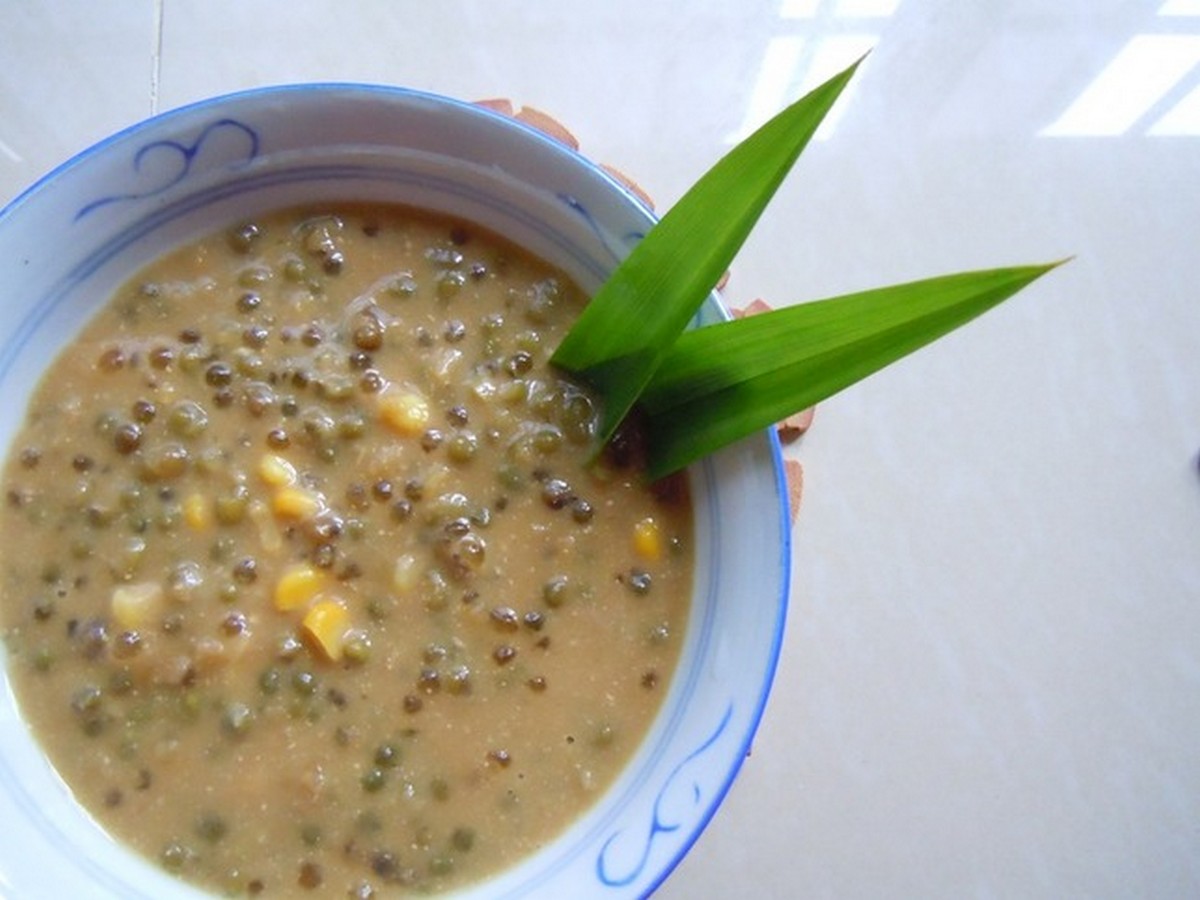 INGREDIENTS:
1/2 cup (100g) dried mung beans
1 litre water
2 pandan leaves, tied into a knot
3 slices ginger (optional)
2 tbsp pearl sago
3 tbsp chopped palm sugar
3 tbsp white sugar
Pinch of salt
125 ml (1/2 cup) thick coconut milk
INSTRUCTIONS:
1. Rinse the mung beans then place them in a saucepan with water and pandan leaves. Bring to a boil and simmer on medium heat until the beans are tender (about 30 minutes). (add in ginger if preferred)
2. Stir in the pearl sago and continue to simmer until the sago turns translucent.
3. Add palm sugar, white sugar, and salt. Let it boil for another 5 minutes.
4. Add coconut milk and gently bring to a boil. Turn off the heat.
5. Serve the mung bean porridge hot or warm.
Recipe adapted from Rohani Jelani via HungryGoWhere Malaysia.
5. Sweet Red Bean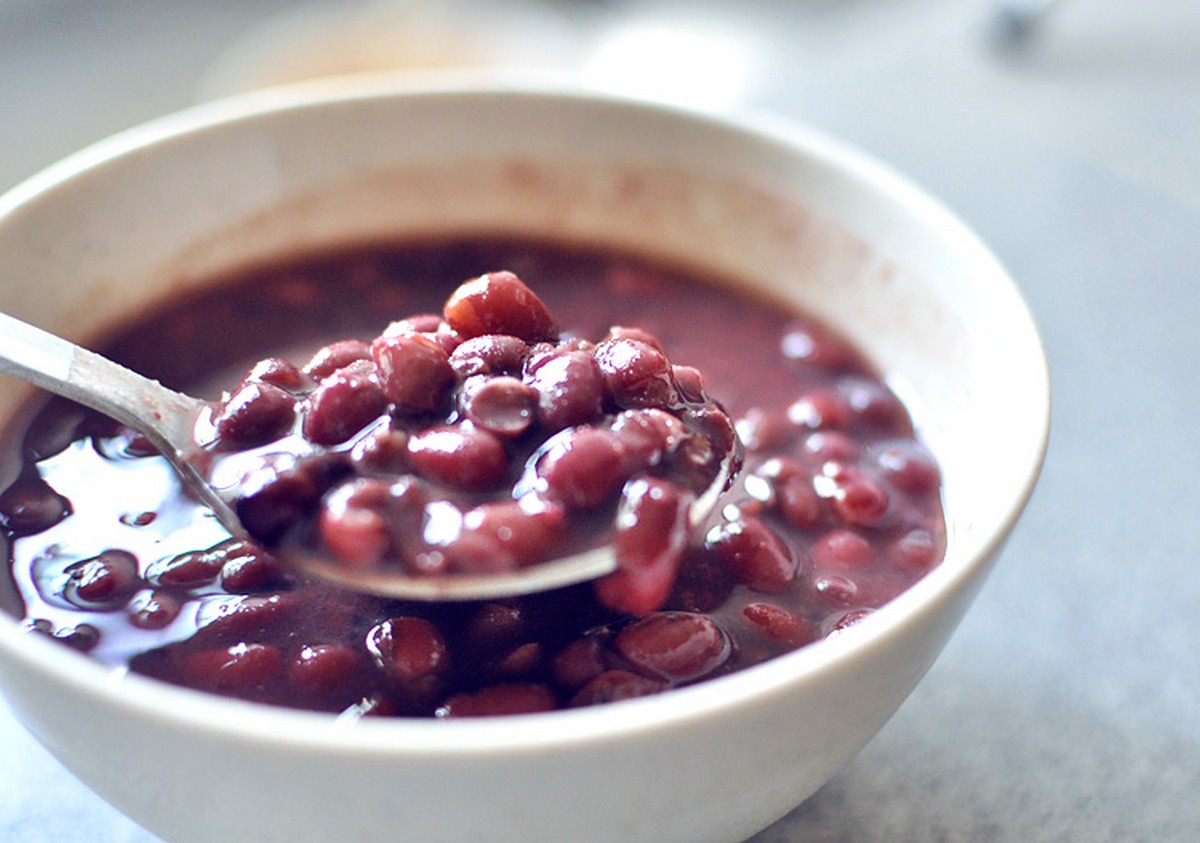 INGREDIENTS:
1 1/2 cup red azuki beans
1/2 cup Chinese rock sugar or raw sugar
2 pieces dried tangerine or orange peel (optional)
INSTRUCTIONS:
1. Soak the red beans in cold water for 2 hours, then drain.
2. In a large pot, add the beans and then pour in some water until it's 2 inches above the beans. With medium heat, bring mixture to a boil.
3. Once it starts to boil, turn the heat down to low and add in the tangerine peels if you are using them. Cook for 3 hours, stirring always and topping up the water as needed.
4. When the red beans are mostly broken down and the soup is thick with dissolved red bean, add sugar to taste and stir. (Note: Don't add sugar before this point, otherwise your beans won't soften properly.)
5. Once the sugar has dissolved completely, let cook until the soup reaches your desired consistency. Serve warm.
Recipe adapted from The Hong Kong Cookery.
6. Sweet Potato and Ginger Soup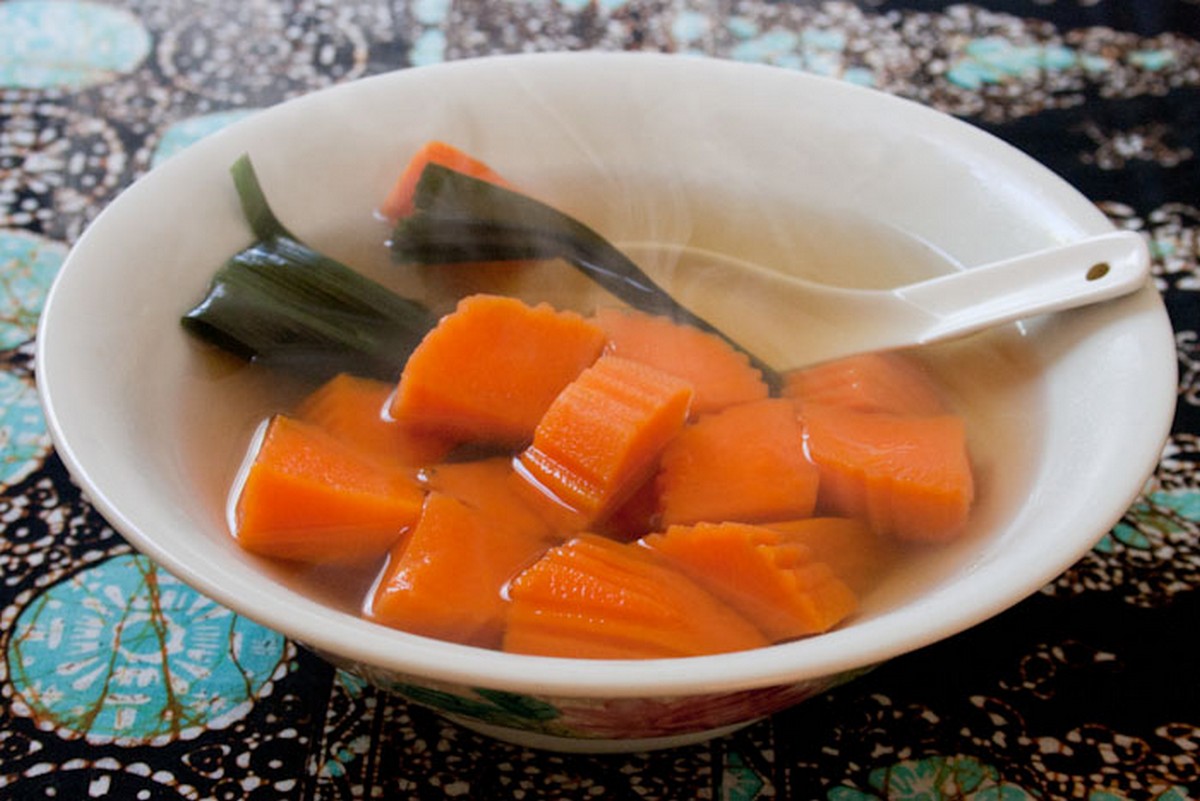 INGREDIENTS:
2 medium-sized sweet potatoes
5 cm piece of ginger
2 pandan leaves, knotted
2 litres water
1/2 cup rock sugar or brown sugar
INSTRUCTIONS:
1. Peel sweet potatoes and cut into bite-sized chunks.
2. Slice the ginger into 2 or 3 segments, then bash it with a pestle and mortar (or any blunt object).
3. Bring water to a boil. Add in all the sweet potatoes, ginger, and pandan leaves. Let simmer over medium heat until sweet potatoes are cooked.
4. Add in rock sugar or brown sugar and mix until it dissolves completely. Add sugar according to the desired sweetness.
5. Serve warm or chilled.
Recipe adapted from 3 Hungry Tummies and Jennifer Lam via I Ate My Way Through.
7. Sweet Peanut Dessert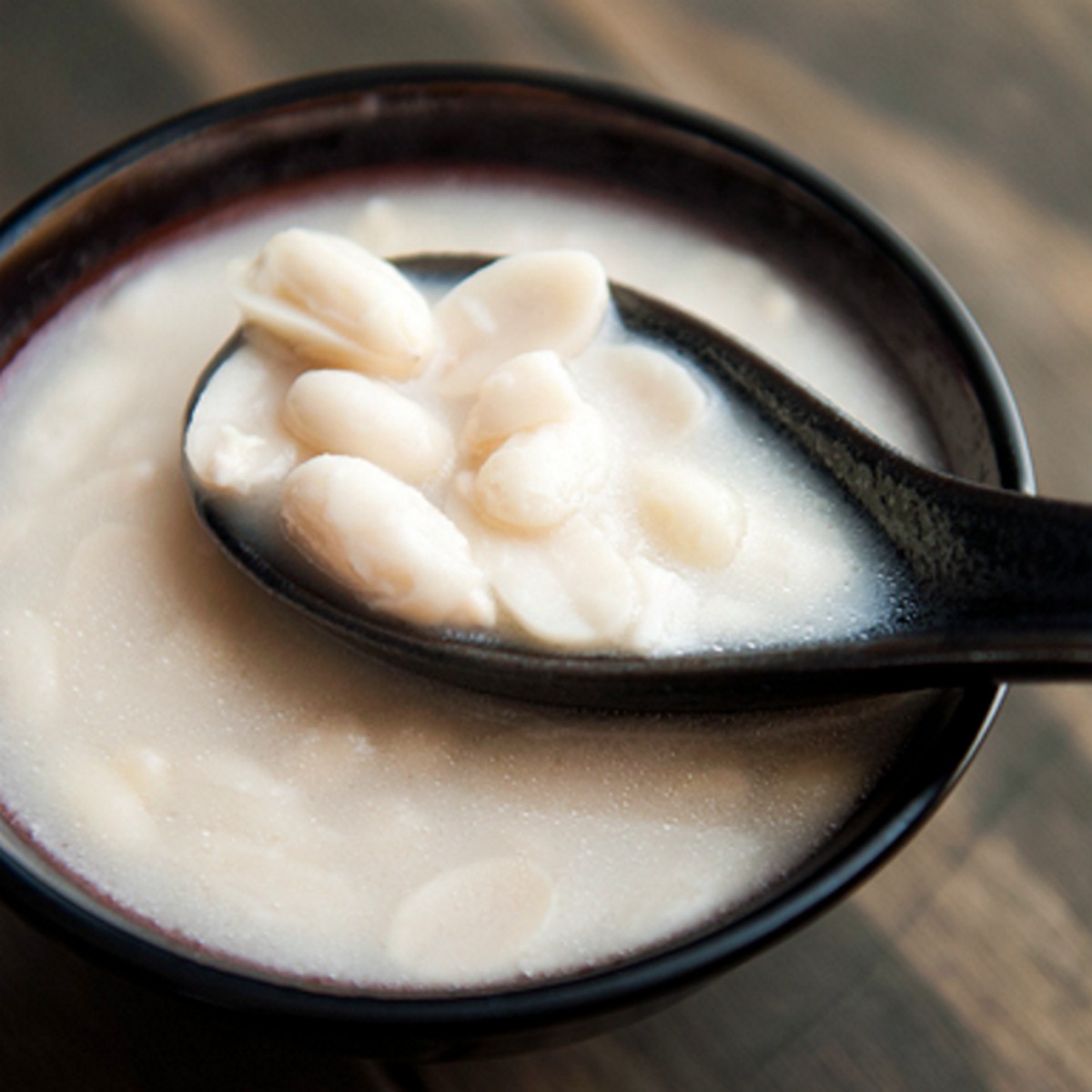 INGREDIENTS:
350g raw peanuts, shelled
8 cups water
2 to 3 pandan leaves, knotted
1/2 cup sugar
4 tbsp coconut milk
INSTRUCTIONS:
Let the peanuts soacked in large bowl of water overnight and if the skin will come off after soaking. After soaking, rinse all the peanuts and drain off water.
Place the peanut and pandan leave in pressure cooker, add 8 cups of water and let the pressure cooker cook on high heat for 15 min.
Reduce the heat to medium and let it cook for 30-40 min and then off the heat and let the pressure cooker naturally slow the heat down.
Add sugar to taste and if the peanuts is not yet completely soft, let them boil until reach a creamy texture.
add coconut milk and let the soap with medium heat to boil.
Serve in cold or hot.
Recipe adapted from Use Real Butter.
8. Ginkgo & Barley Dessert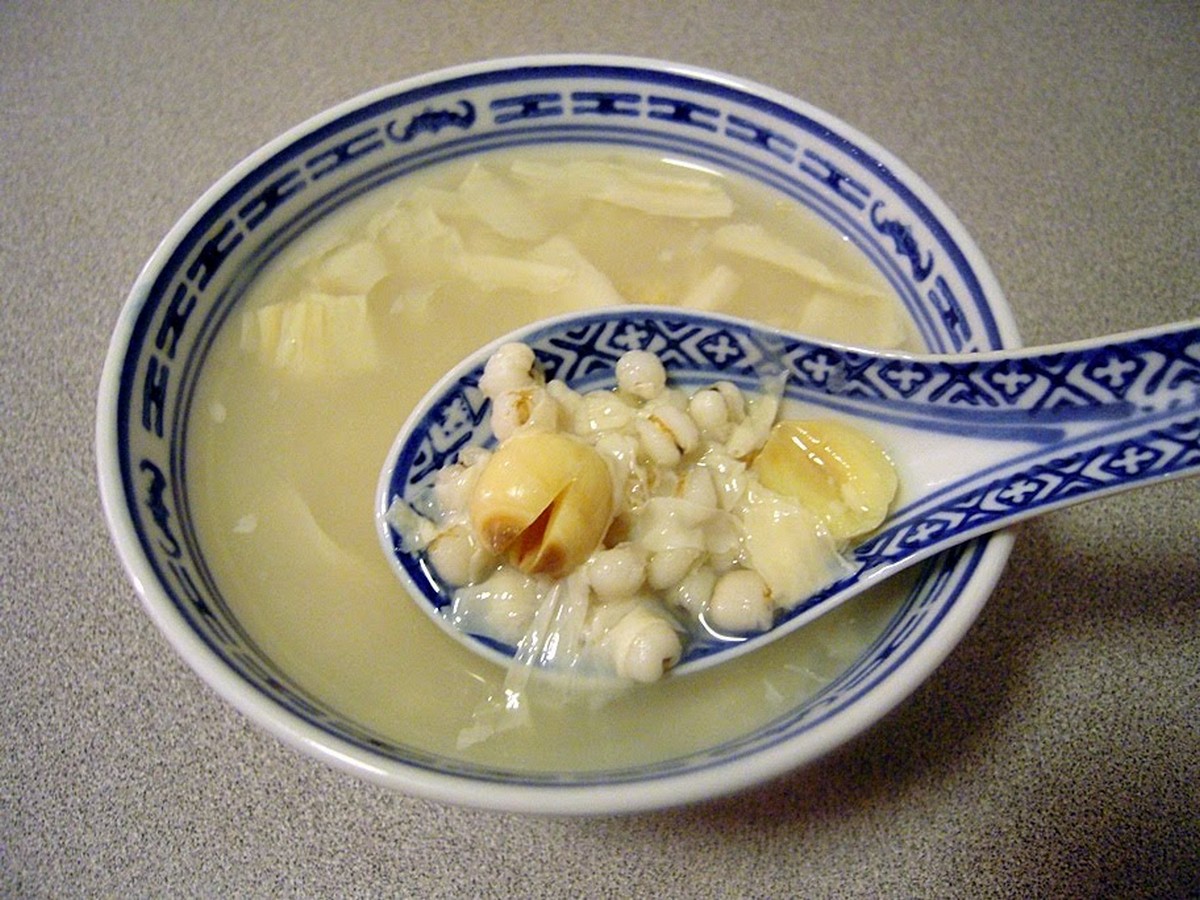 INGREDIENTS:
50g barley
20 to 25 ginkgo nuts, shells removed
1 to 2 pieces dried beancurd sheets
1.5 litres boiling water
2 pandan leaves, knotted
Rock sugar, to taste
3 eggs (optional)
INSTRUCTIONS:
1. Rinse and clean off the barley and ginkgo nuts. Soak barley in water for about 30 minutes. Rinse dried beancurd. In a separate bowl, soak dried beancurd sheets until soft, then drain.
2. Add pandan leaves, barley, and ginkgo nuts into boiling water. Cook over medium heat, covered, for about 30 to 45 minutes, until ingredients soften.
3. Add beancurd sheets and continue to cook until they are soft enough to break into pieces.
4. Add rock sugar to taste and mix well until it dissolves completely. Let boil for another 15 minutes or so before serving.
Recipe adapted from Christine's Recipes and Delicious Asian Food.
9. Split Mung Bean Dessert with "You Tiao"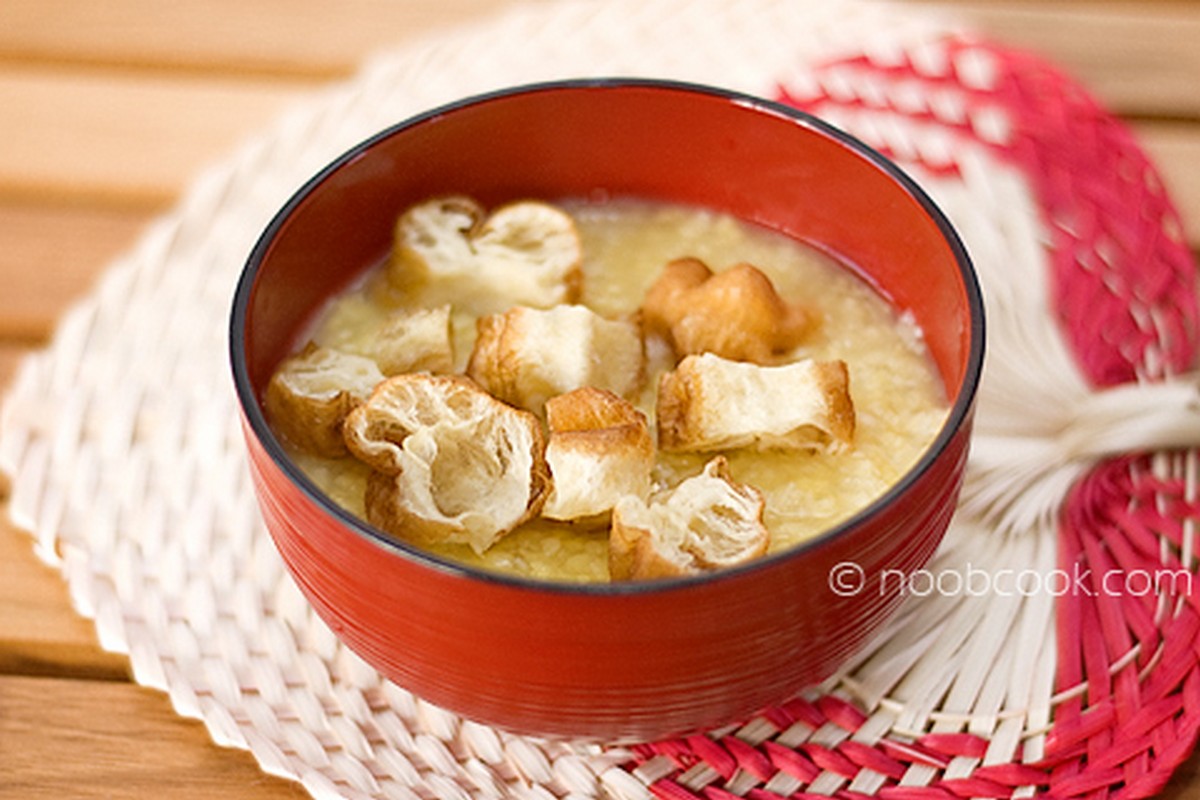 INGREDIENTS:
150g split green (mung) bean
2 pandan leaves, washed and knotted
50g rock sugar
500ml water
1 you tiao (fried dough fritters or you char kway), cut into pieces

Thickener:
40g sweet potato flour or water chestnut flour, mixed with 125ml (1/2 cup) water
INSTRUCTIONS:
1. Soak the beans in water for 1 hour. Then, drain and rinse with water. Drain again.
2. Steam the beans for about 30 minutes, or until they are soft.
3. In a pot, add water, pandan leaves and sugar. Bring to a boil, reduce heat, and add in the steamed beans.
4. Before using the thickener, stir the solution again to make sure it is even. Stir in the thickener slowly until mixture thickens. Note: Stop adding once the soup reaches your desired consistency.
5. Serve warm, topped with you tiao pieces.
Recipe adapted from wiffy via NoobCook.