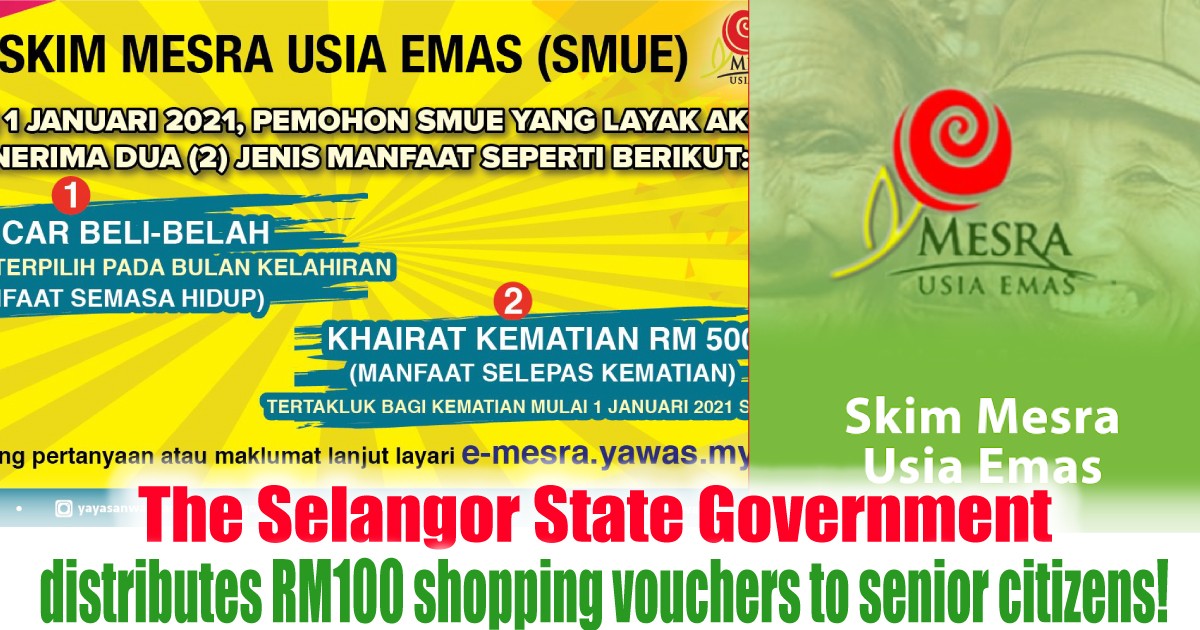 The Selangor State Government distributes RM100 shopping vouchers to senior citizens!
The Selangor state government distributed RM100 shopping vouchers to the elderly and the disabled in the state. Eligible people can apply and register as a member of the Selangor Seniors Goodwill Fund!
The Selangor Elderly Goodwill Fund (Skim Mesra Usia Emas / SMUE) is a program launched by the Selangor State Government since 2009 to help the elderly and the disabled and provide benefits to these groups.
In the Selangor Elderly Goodwill Fund system in 2021, seniors who have registered as members will receive a shopping voucher of RM100 per year, while family members of members who have passed away will receive a pension of RM500.
The public can visit http://www.smue.yawas.my/admin/online_semakan.php to check whether they have registered as a member of the Selangor Elderly Goodwill Fund. The public only needs to enter the ID number, and then click SEMAK.
If you find that the system does not have your name, seniors and people with disabilities who are over 60 can register as members now. The first way to register is to browse http://smue.yawas.my/admin/online_semakan_awal.php , and the second way is to go directly to the nearby Selangor State Assembly Service Center and complete the registration form. 
You can also visit  
http://e-mesra.yawas.my/
  for more details.
The application requirements for the Selangor Elderly Goodwill Fund members:
1. Malaysian citizens.
2. Must be at least 60 years old.
3. Born in Selangor or born in Kuala Lumpur before February 1, 1974, or settled in Selangor for more than 15 years.
4. Currently living in Selangor (the address of the ID is Selangor)
5. Registered as a voter.