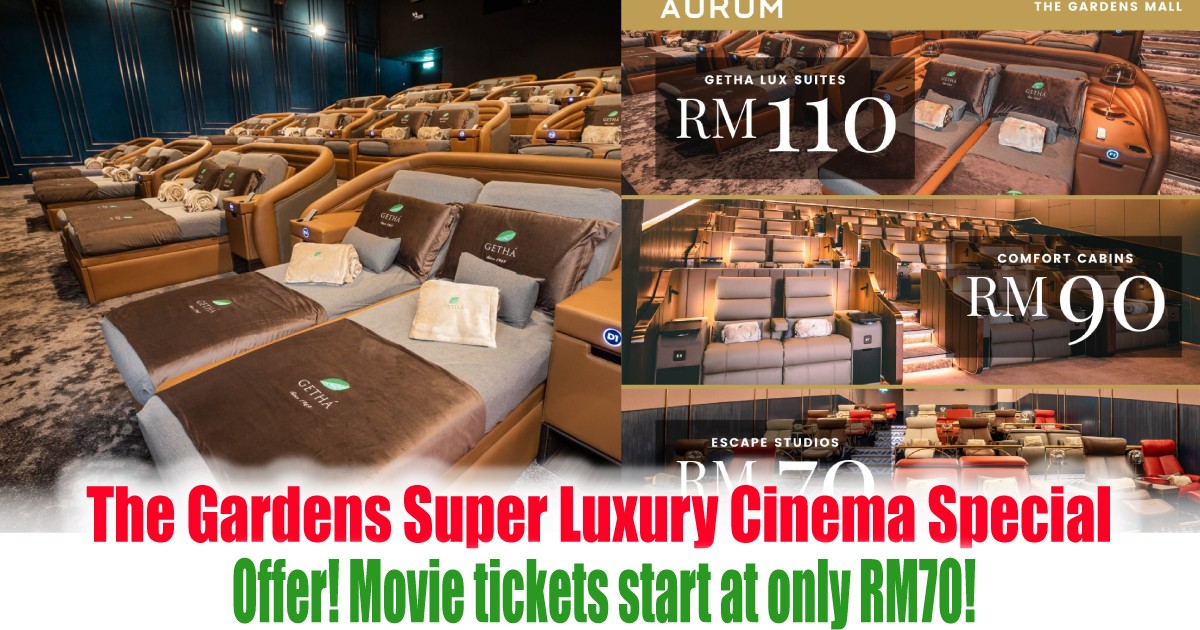 The Gardens Super Luxury Cinema Special Offer! Movie tickets start at only RM70!
In order to cope with the re-opening of the cinema, GSC's super luxury cinema [The Gardens Aurum Theatre] held a special offer, and tickets only cost RM70. The Aurum Theatre cinema has ultra-luxury lounge chairs, ultra-wide screens, and top audio equipment, which will definitely let you enjoy the top film and television feast.
Golden Screen Cinemas and Getha have entered into a partnership and jointly introduced the ultimate luxury Aurum Theatre, providing five themed design viewing halls, including Getha Lux Suites, Comfort Cabin, Escape Studio 1, Escape Studio 2 and Escape Studio 3 viewing halls.
GETHA Lux Suites is the ultra luxury double recliner series and it can be adjusted to the most comfortable inclination and also equipped with 100% natural latex soft pillows allow the audience to enjoy the most relaxing and comfortable movie experience.  While Comfort Cabins are provided to the user who like the golden experience and also providing a sophisticated, elegant and timeless visual experience. Escape Studio is for those who wanted to enjoy a full sense of space, a warm family with 4 seats and colourful art theater.
Golden Screen Cinemas Aurum Theatre super luxury movie theaters have a limited time offer, the latest movie ticket prices are as follows:
• Getha Lux Suite – RM 110
• Comfort Cabin – RM 90
• Escape Studios – RM 70
• Getha Lux Suite – RM 90
This offer will be launched from now until June 30, 2021.