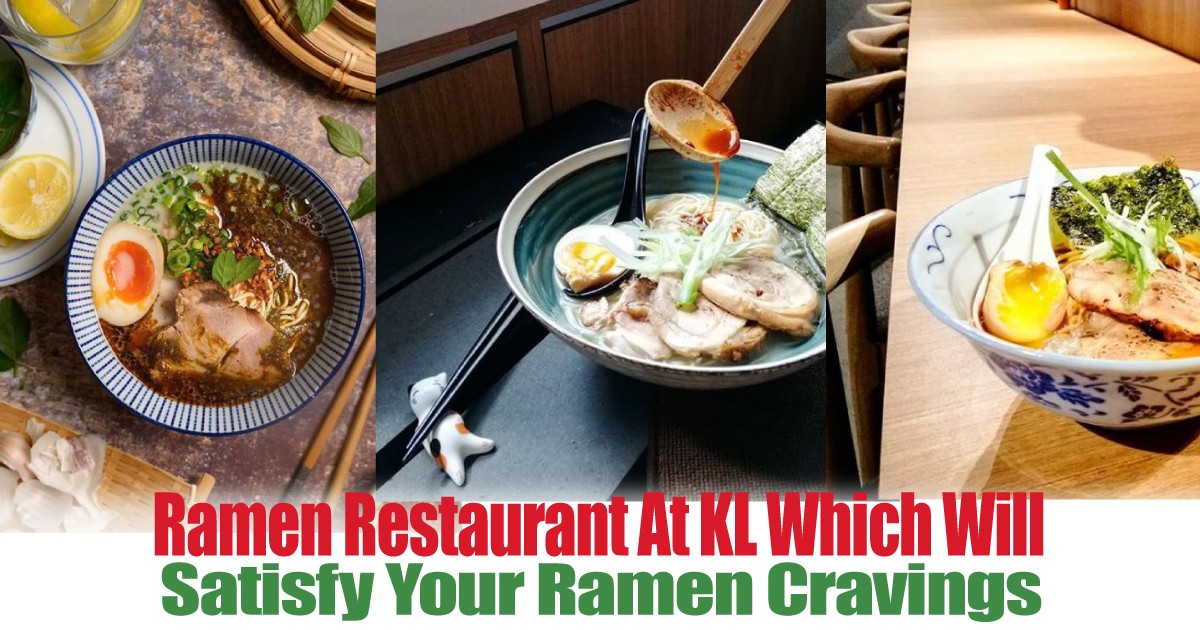 Ramen Restaurant At KL Which Will Satisfy Your Ramen Cravings
Ramen is a must-eat delicacy for many people. A bowl of ramen that can satisfy the taste buds of ramen. The rich soup and chewy noodles are just basic conditions. It is paired with tangy char siu and surging flow. The hot spring egg is an unforgettable taste. In addition to Ippudo Ramen in Kuala Lumpur, there are actually many evocative authentic Japanese ramen restaurants in Kuala Lumpur that are worth exploring! Let's watch it together~
Tomo Ramen Bar
Combining traditional cooking techniques with innovative flavors, the innovative miso soy milk soup ramen at Tomo Ramen Bar, a brand new ramen shop in Uptown Damansara, will definitely activate your tongue and taste buds! Or you can try their classic tonkotsu soup, which is mellow and rich and paired with savory barbecued pork and hot spring eggs. It must be quite enjoyable! In addition to the super cute and large neon sign in front of the gourmet ramen restaurant, it is also very suitable for foodie.com to check-in!
Tomo Ramen Bar
Address: 75, Jalan SS 21/1a, Damansara Utama, 47400 Petaling Jaya, Selangor
Business hours: 12pm – 3pm|5pm – 9:30pm (Monday closed)
12pm – 10pm (Weekend)
Marutama Ra-men Malaysia
The soup is different from the common tonkotsu soup in other ramen restaurants. The ramen soup of Marutama Ra-men Malaysia is made from chicken and filled with spring onions. It adds the finishing touch to this bowl of ramen, giving it a richer and more layered flavor. The ramen who knows how to eat must be on the favorite list!
Marutama Ra-men Malaysia
Address: LG 26 Lower Floor, Jalan SS 16/1, 
Subang Jaya, Selangor
Business hours: 10:30am – 10pm
Okinii Ramenba
Okinii Ramenba also uses 8 hours of simmering chicken broth as the ramen soup base. The soup is much more salty than the regular pork bone soup base. With the addition of chicken char siu and special soy miso, you can eat every bite of the ramen noodles. Invest 200% of the effort.
OKINII RAMENBA
Address: 1st floor, 9A, Jalan SS 4c/5, Ss 4, 47301 Petaling Jaya, Selangor
Business hours:
Menya Shi Shi Do
Menya Shi Shi Do in PJ has a spicy black garlic soup with super balsamic vinegar that is rich and appetizing. Such a bowl with moderately chewy ramen, char siu pork slices and hot spring eggs will spoil your taste buds! In addition to the classic signature ramen, Spicy Iipon Yaki Buta Ramen is also a must try! The extra-large slices of roast pork paired with the spicy soup ramen is too evil!
Menya Shi Shi Do
Address: Lot 100 P2.039, The School Jaya One, No 72A, Jalan Universiti, 46200 Petaling Jaya, Selangor
Business hours: 11am – 9:30pm
Super Ramen
Super Ramen, formerly known as Rudifu Modern Wantan Noodle Shop, has now entered Sri Petaling with new Japanese delicacies. Here you can enjoy ramen dishes that are more surging than surging, such as the signature King Pork Chop Ramen. The oversized pork chop runs through the ramen and the soup. It is a shocking feast of vision and taste. Ramen control Don't miss it!
Super Ramen
Address: 65g, Jalan Radin Bagus, Sri Petaling, 57000 Kuala Lumpur
Business hours: 11am – 9pm