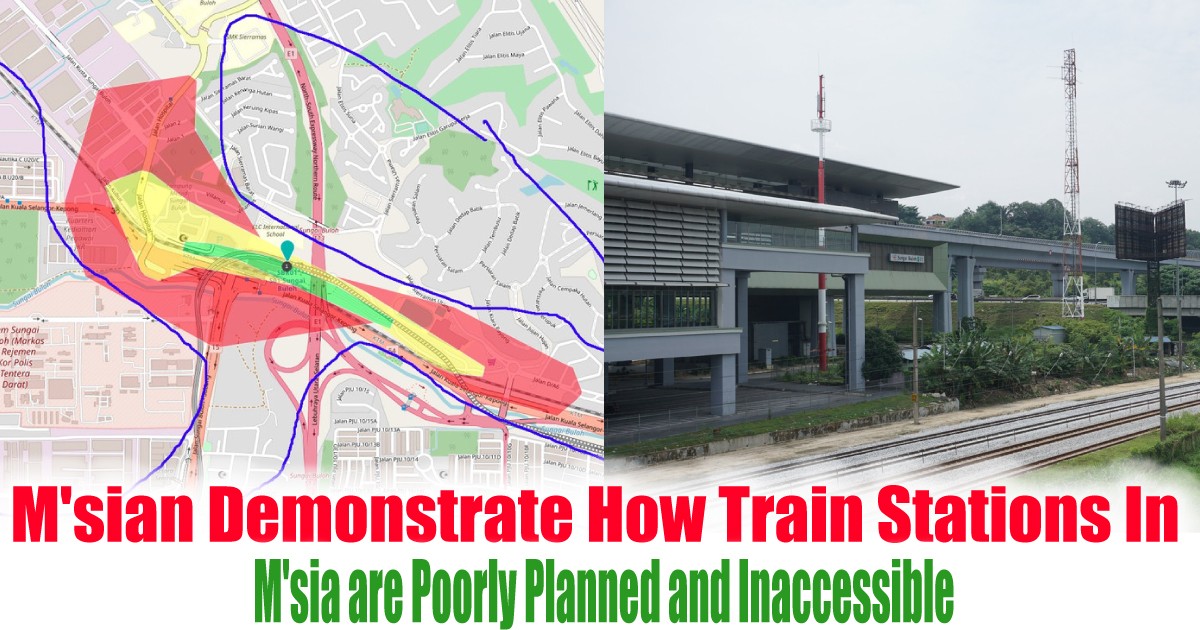 M'sian Demonstrate How Train Stations In M'sia are Poorly Planned and Inaccessible
A netizen who is living in Klang Valley shared on this Twitter which went viral as he's demonstrating how inaccessible Malaysian train station are. The 25-year-old Nabil Ersyad where he shares it on social media after he is frustrated where he always needs to endure through long commute times to get to work especially with the train system in Klang Valley.
In his tweet, he shared the isochrone maps which shows how far a pedestrian would have required to walk from any particular train station, and he used the Sungai Buloh MRT station for example where the green areas will take a person five minutes to walk, yellow 10 minutes and red 15 minutes. Where the station's accessibility didn't look great where a five-minute walk will only get you slightly down to the road.
He then compares it with a better accessibility of the Pasar Seni MRT station which is located in the middle of Kuala Lumpur where it is more evenly covered as five minutes of walk can get you anywhere within the 0.36 km sq area from the station as a 15 minutes walk you can get around the area of 3.56 KMS, which is four times the area covered by the Sungai Buloh MRT Station.
Nabul shared that it is important because the average orea of walkable distance of train station in Kuala Lumpur is weak compare to the cities which has better planning and design such as Montreal and Singapore. Where these country has maximized the reach of their station for pedestrians.
Nabil, who is also an electrical engineer graduate where he also recommended that Malaysia should stop building train stations in the middle of nowhere or next to massive highways as he is just finding that it is really tough to get to work using public transportation.