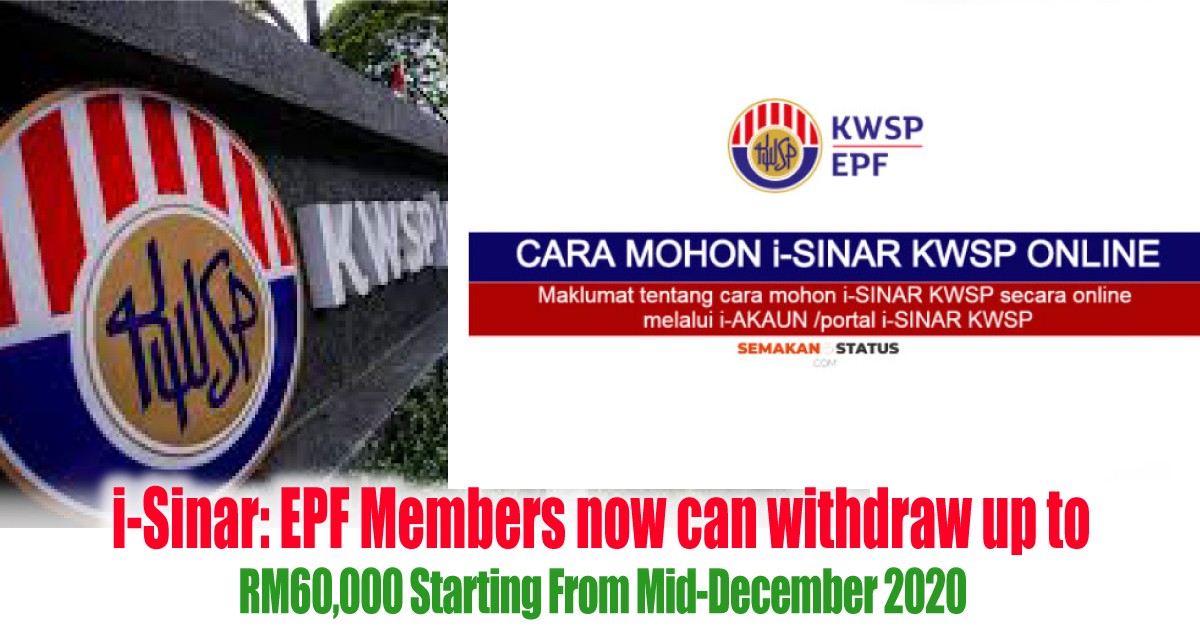 i-Sinar: EPF Members now can withdraw up to RM60,000 Starting From Mid-December 2020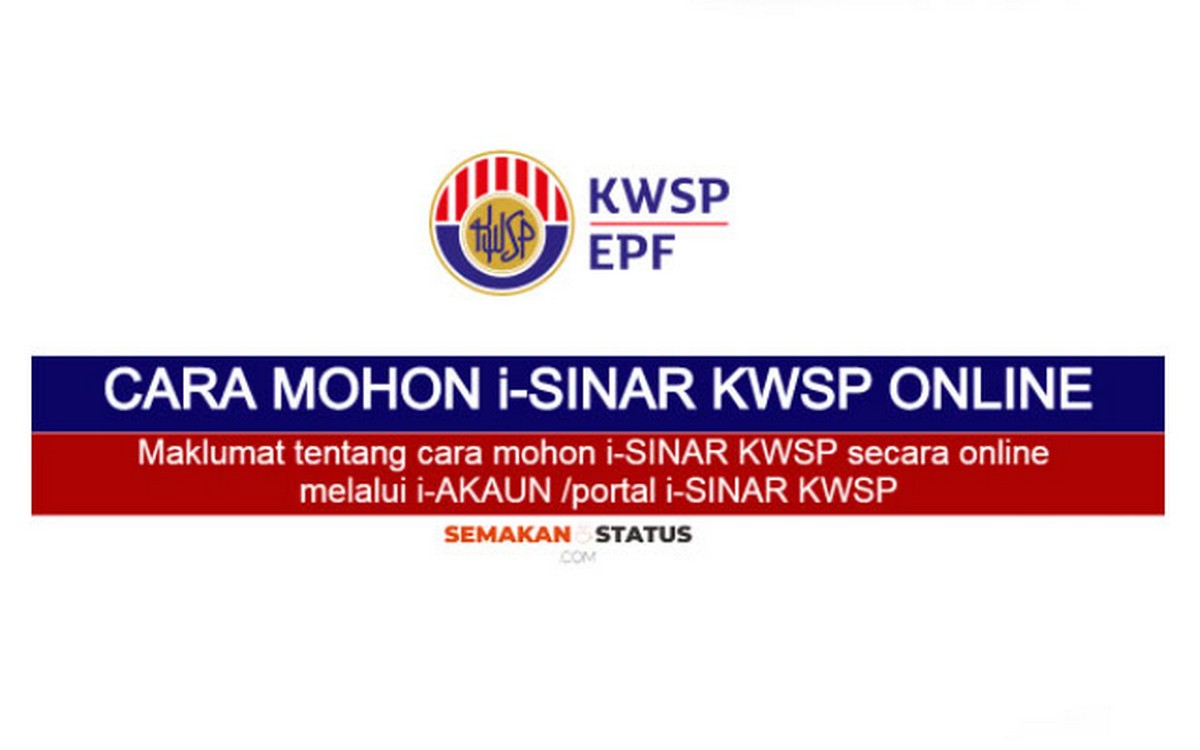 With the latest announcement from the government on the i-Sinar Program to cover more affected members by the Covid-19 pandemic where the Contributing Employees Provident Fund (EPF) members which are categories for a job lost or suffered reduced incomes are now eligible to withdraw up to RM60,000. This program will start next week and members who fit into the segment can start applying from mid-December 2020 onwards.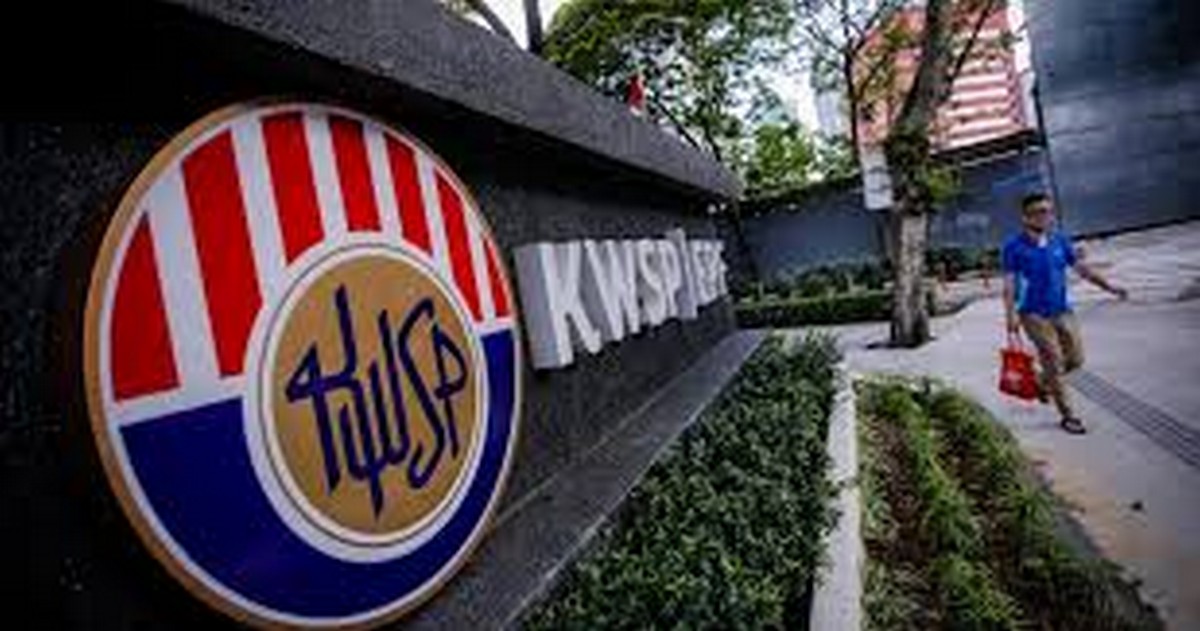 The first payout will begin in a month after their application is approved which if your application is submitted and approved in December 2020, your 1st payment will start in the month of January. The i-Sinar program will involve a total of 8 million affected members instead of the 2 million members announced earlier. And the maximum amount you can take out from your i-Sinar, which is from your EPF's Account 1 depends on your current available balance.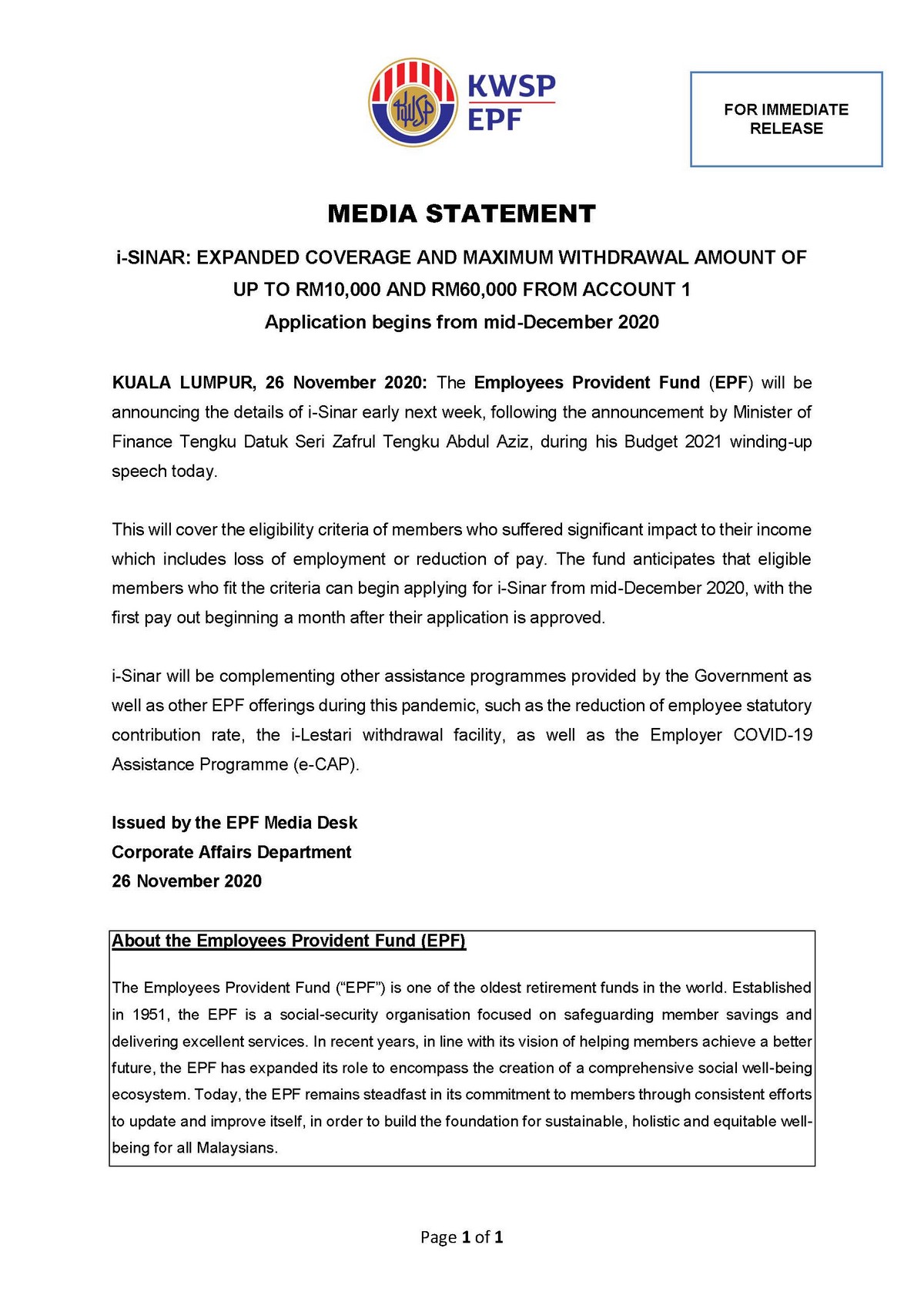 Account 1 savings RM90,000 and below

Account 1 savings above RM90,000

Maximum of RM9,000

(subject to RM100 remaining balance at all times)

Up to 10% of their savings

(with a maximum total amount of RM60,000)

First month advance of up to RM4,000

First month advance of up to RM10,000

Example:

| | |
| --- | --- |
| Balance in Account 1: | Total amount allowed: |
| RM4,500 | RM4,400 |
| RM10,000 | RM9,000 |
| RM70,000 | RM9,000 |

Example:

| | |
| --- | --- |
| Balance in Account 1: | Total amount allowed: |
| RM100,000 | RM10,000 |
| RM500,000 | RM50,000 |
| RM800,000 | RM60,000 |
For example, if a person has RM90,000 in their account 1, they can only without up to RM9,000 – RM10,000 (10% of the total amount with max capped at RM60,000, am rm100 is remained at your account 1) and the disbursement will be done across 6 months of time where the first payout in the first month will be larger.
However, if you are planning to apply for the i-Sinar program do stay tune to their official announcement by EPF on their website or Facebook as there might be more changes on the regulation. And this is how you can apply for your i-Sinar program.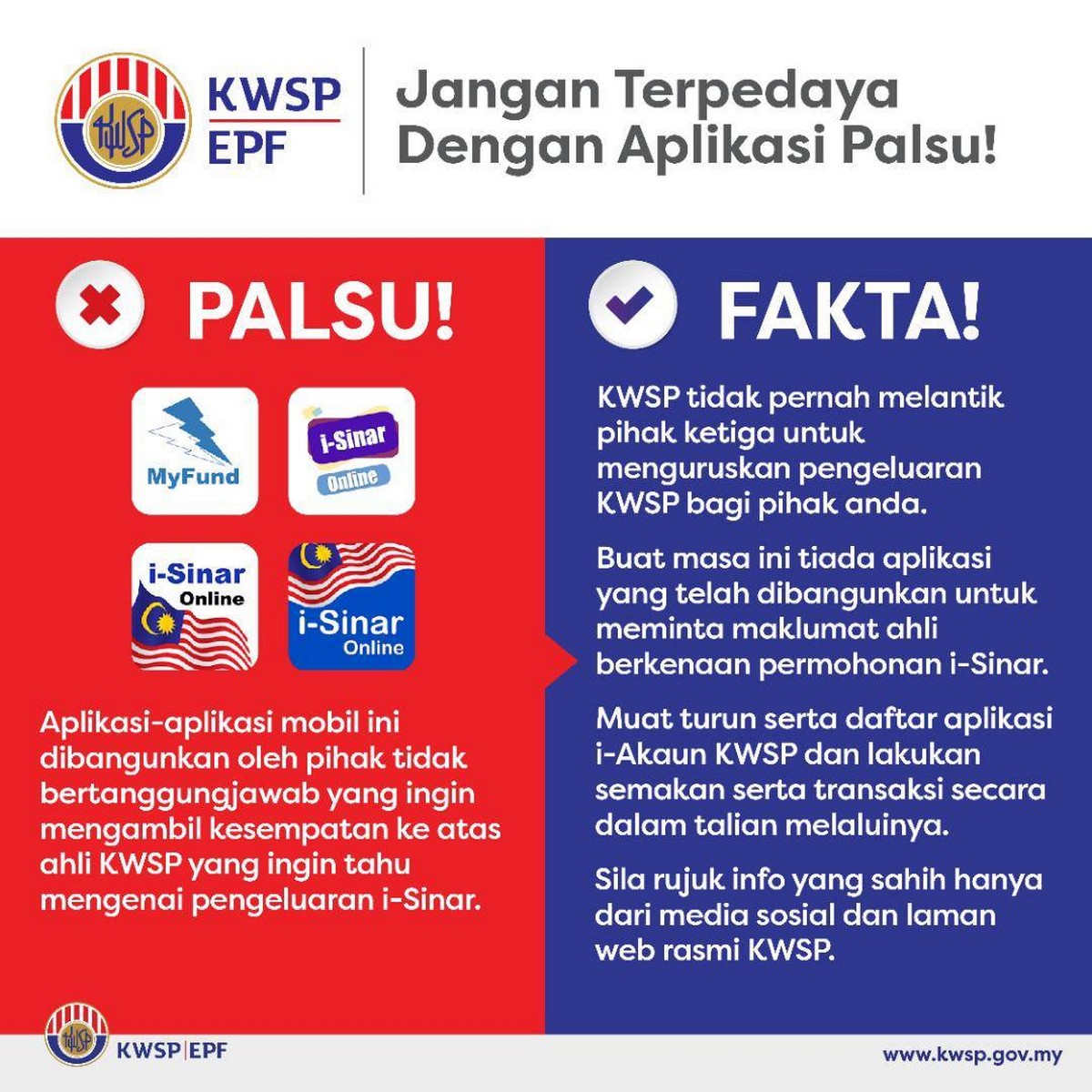 Please be aware of the i-Sinar scam programme which is happening at the moment as there will be 3rd parties offering help to withdraw or submit your application, where there isn't such thing available by EPF or i-Sinar program. You will have to apply it through iSinar Online or go to the EPF office only. So please take note!
Applications for EPF i-Sinar will begin in December 2020 and must be made at iSinar Online or go to the EPF office. Then you must show proof of job loss or pay cuts. For further inquiries on the i-Sinar facility, please contact the EPF at 03-8922 6000 or visit the official website for more information.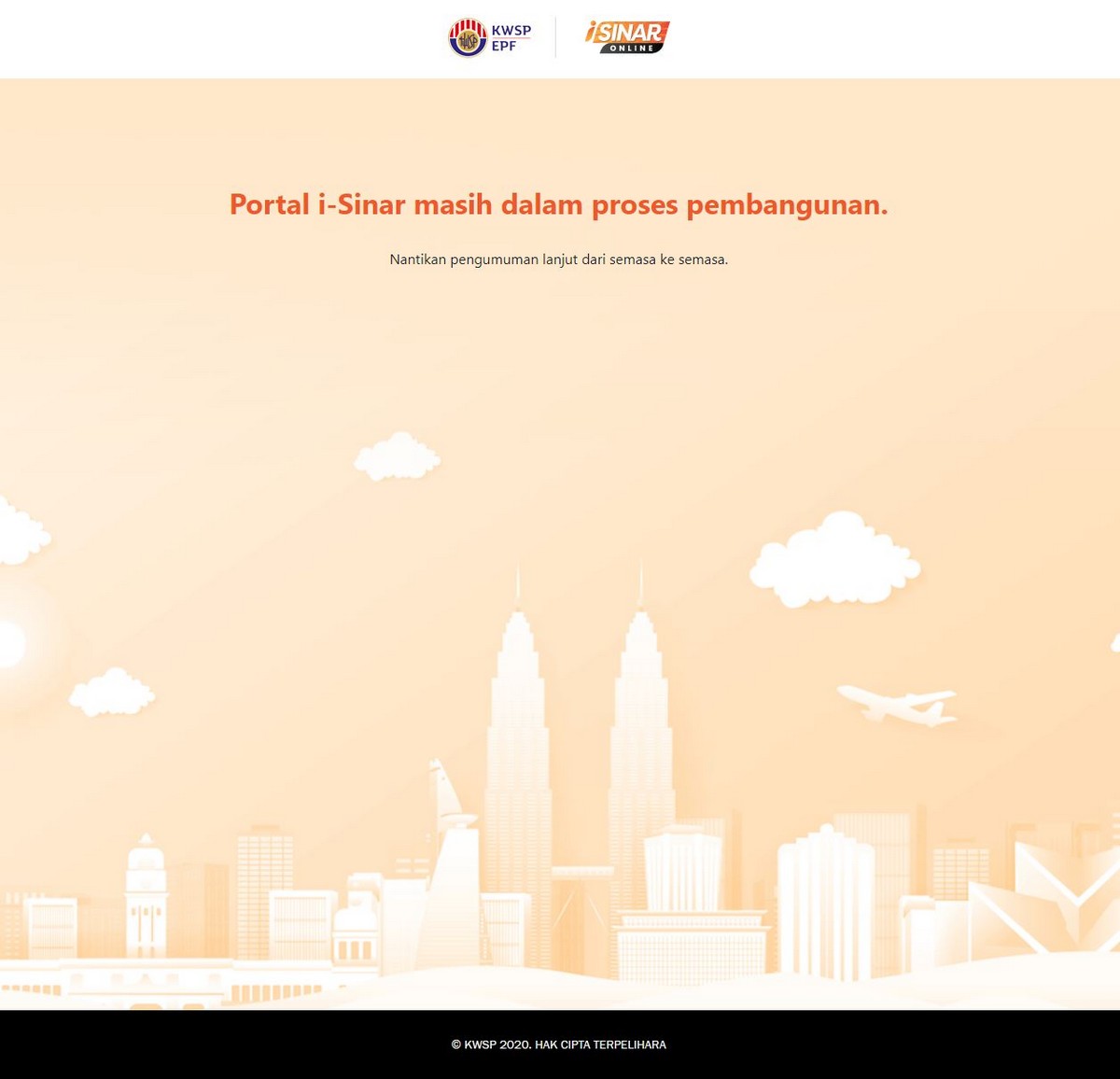 If you're not sure of what is the right amount to be withdrawn under the i-Sinar initiative, you may first seek advice from EPF's Retirement Advisory Services (RAS) or the Credit Counselling and Debt Management Agency (AKPK)/Agensi Kaunseling dan Pengurusan Kredit.