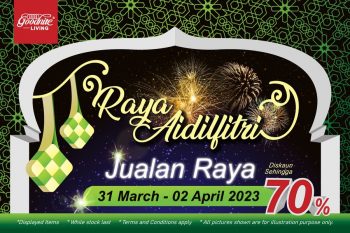 Goodnite Living Malaysia is having their Raya Aidilfitri, Eid Sales. Enjoy Great deals on their Raya Aidilfitri, Eid Sales.
Only 3 days left.
Discount up to 70%.
Cash before delivery.
Credit card is accepted.
Price exclude transportation and installation fee.
Contact us for enquiry
+6012-380 1187 CY
+6012-320 8248 Alfred
+6017-913 1636 Edward
Time: 10am-6.30pm
Date: 31st March 2023 to 2nd April 2023
Available at:
GOODNITE SDN BHD (Swimming)
Lot 9, company road 1, Swimming Company Area , 43700 Swimming, Selangor Darul Ehsan.